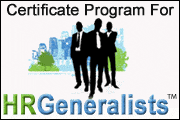 Human Resource Workshops
Looking for HR Workshops for you or your team? We can help!
HR Training Center offers HR Workshops on a variety of topics, including Internal Investigations workshops, HR specialist workshops, employment law workshops, and more!
Each of these Human Resource workshops is designed to help you do your job better, whether it is keeping you in compliance with laws and regulations or simply improving your knowlede!
Find HR Workshops
To find Internal Investigations, HR specialist, employment law, and other workshops, either click one of the recommended courses below or select "HR Management" from the "Professional Development" section of the search box below.