Courses By Provider

About Equal Employment Advisory Council (EEAC)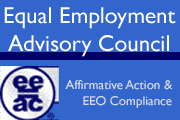 The Equal Employment Advisory Council (EEAC) is the nation's only employer association dedicated exclusively to the advancement of practical and effective equal employment opportunity (EEO) and affirmative action compliance programs to eliminate workplace discrimination.

EEAC is a nonprofit association founded in 1976 to promote effective fair employment practices. Comprised of over 330 major corporations, EEAC is staffed by lawyers and HR professionals with expert knowledge and practical experience in dealing with EEO and affirmative action compliance issues.

Membership is corporate, meaning that anyone employed by a member company is eligible to benefit from EEAC's wide array of member services.

Member services include weekly memoranda that provide practical analysis and guidance on current regulatory and judicial developments and best practices; a telephone clearinghouse service where members can talk directly with EEAC staff experts on particular issues; a complete EEO/affirmative action training curriculum; forums and special meetings throughout the year; and an extensive variety of EEO and affirmative action resources.
Available Classroom Courses
Developing Compliant Affirmative Action Programs
Dates through 8/14/2018

Learn How To Develop A Compliant Affirmative Action Program Understand the nuts and bolts of structuring, preparing, and implementing effective and fully compliant affirmative action programs.
EEO/AA Compliance Immersion Program
Dates through 11/5/2018
EEO/AA Compliance Training
Roll up your sleeves for our intensive "boot camp" program delivering all of our EEO/AA training courses in a fast-paced week-long session.
Managing OFCCP Compliance Evaluations
Dates through 8/16/2018

Learn How To Manage Your OFCCP Compliance Learn real-world strategies and tactics from the experts on managing DOL Office of Federal Contract Compliance Programs (OFCCP) audits.


HRTrainingCenter.com. 5755 North Point Parkway, Suite 228 | Alpharetta, GA 30022 | 770-410-1219 | support@HRTrainingCenter.com
Copyright HRTrainingCenter.com 2018 | Web Site Development by OTAU