Need Compensation Training?
Searching for compensation training? Then you've come to the right place!
Compensation is one of the primary and most-visible employee benefits. Therefore, setting up and managing your compensation plan should be a top priority. But how do you know whether you are pricing jobs fairly? Paying above or below market rate?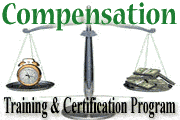 HRTrainingCenter.com offers compensation training courses and resources, including ways to set up and manage a compensation plan.
Find Training For Managing Your Compensation Plan
Listed below are some of our most-popular compensation training courses. Either select on of the recommended courses or select "Compensation" from the "Professional Development" section of the search box below.