Strategic Goal-Setting
SM-1003979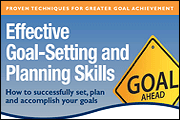 This seminar will teach you proven, step-by-step methods for goal-setting, project management, and improving your organizational skills that will help you reach your goals with less stress, less time, and less effort than you ever thought possible!
Chances are you've set countless goals for yourself — but how many do you actually achieve on a routine basis? Constantly falling short of goals can leave your self-confidence in disrepair and your professional reputation compromised while sending your stress levels skyrocketing. Don't spend another minute worrying about how to set, plan for, and achieve your goals.
Learning Objectives
There's an art and a science to effective goal setting. Our
Strategic Goal-Setting

seminar gives you a blueprint for setting realistic, attainable goals, as well as foolproof methods for accomplishing them.
Here is just some of what you'll learn from this exciting and interactive seminar:
Master tips, tricks and secrets the pros use for effective goal setting

Identify hidden barriers hindering goal achievement

Simplify your prioritizing and scheduling methods

Break complex goals into smaller, more user-friendly tasks

Discover the 10 elements of effective, achievable goals

Create workable action plans on which you'll actually follow through

Overcome the mental barriers and roadblocks holding you back

Stop feeling overwhelmed by goals that seem too big, too unwieldy or too complex

Set priorities while remaining flexible and adaptable when change occurs

Break goals into manageable steps and use evaluation tools to monitor progress

Contribute fully to your team's goal-setting and accomplishments

Achieve the goals you've set, both personally and professionally

Overcome procrastination tendencies in yourself and others
There is a special component to setting and achieving goals that often means the difference between success and failure when it comes to actually accomplishing the goals you've set for yourself.
With our
Strategic Goal-Setting
seminar, you'll not only discover this critical component, but dozens of other tools, tips, strategies, fresh ideas, and more — all geared toward setting and accomplishing goals easily and painlessly.
From setting individual goals to working within the framework of a team environment, we'll help you get past the internal roadblocks and external issues that have hindered you in the past.
Agenda:
The How and Why of Setting Goals
Discover fascinating insight into why most goals don't work and learn how to ensure yours will

The most important goal-setting question no one ever asks (this alone is worth the price of this workshop!)

10 specific elements all realistic, achievable goals have in common

How goal-setting creates more time in your life, both at home and in the workplace

Tips for optimizing goals to reduce stress and create more balance
The Power of Planning and Prioritizing
Use our planning methods to carve out time you didn't even know you had

The 2.1 Planning Process: what it is, how it works and how to make it work for you

Organizational tools and software to increase productivity: what really works and what's just a waste of time

How to set priorities during the goal-accomplishment process

Simplified scheduling tools to ease your way through project management tasks

Divide and conquer: use this system to break larger goals into smaller, more attainable chunks
Break Through Self-Built Barriers and Plow Through Procrastination
How to identify and use your "prime energy time" wisely and productively

Learn to recognize and tear down the hidden barriers that keep you from accomplishing your goals

One key question to help you overcome procrastination (really –– we're not kidding!)

Why you need only five to ten minutes a day to accomplish your goals

How to dive right in and get things done when faced with overwhelming or unpleasant tasks
A Team Effort: Creating and Achieving Team Goals
How to get team members to willingly accept your ideas and suggestions

The differences between individual goals and team goals

Ways to inspire and motivate your team to take ownership of the goals you set

The critical role effective communication plays in team dynamics

How to delegate the right tasks to the right people: recognize who needs a challenge, who needs to remain in their comfort zone and who can be counted on to go above and beyond what's asked

How to recognize and value the different points of view that comprise an effective team

Milestones for reaching your goals on time and on budget
Bonus Material:
Our comprehensive Strategic Goal-Setting manual: This information-packed workbook covers everything your trainer will touch on during the day. Checklists, examples, goal-setting strategies, and how-to's are all at your fingertips in this exciting reference guide.
Imagine the satisfaction of moving confidently toward your goals, accomplishing them with ease and guiding colleagues, co-workers, and team members to do the same. It's all possible once you put the principles of this goal setting training class into action!
5 Important Benefits Of Attending This Workshop
Build your reputation and presence as a professional who others can count on to set realistic goals and strategize ways to accomplish them

Alleviate the low-level, day-to-day stress and anxiety caused by constantly failing to achieve the goals you've set

Take on an active leadership role when faced with thorny problems, challenges and conflicts related to team goals

Guide your team toward greater goal accomplishment; what you learn here will help you plan, strategize, delegate, support and motivate others

Stop abandoning goals midstream and learn to create an action plan that leads to the success and achievement of every goal you set for yourself and your team
When you set realistic, attainable goals using the methods learned, you'll reduce your stress levels, increase your motivation and productivity and enjoy the entire process more.
Order:
Strategic Goal-Setting
Price: $99.00
To order this product, find a location and date that is convenient for you under the "
Cities & Dates
" tab.