---
About PHR And SPHR Certification
---
HRCI.org provides career development through their PHR, SPHR, and other certifications. Generally speaking, their courses focus on:
Workforce Planning and Employment
Employee and Labor Relations
Compensation and Benefits
HR Development
Business Management and Strategy
Risk Management
Essentially, you take their courses to earn a certification, then have to take re-certification courses to maintain your certification.
---
PHR/SPHR Exam Prep Programs
---
With a 55% pass rate, the HRCI certification exam is not easy to pass. Though not required to take the exam, we strongly suggest that you take either of the PHR/SPHR exam prep programs listed below: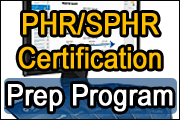 PHR/SPHR Exam Prep Seminar (In-Person Workshop)

Our instructor-led PHR / SPHR exam review program includes six modules that align with, and are designed to help you pass, the exam.
PHR/SPHR Certification Exam Prep Program (Self-Study)

Though many HR managers are intimidated by the prospect of a 175-question certification exam covering the entire human resource body of knowledge, there is no need to worry. The HRCP program thoroughly covers the essential topics in human resource management, and is carefully updated each year to reflect changes in the field of human resource management and the content outline used by the HRCI in designing the PHR and SPHR exams.
---
PHR/SPHR Re-Certification Credit Courses
---
The following courses offer multiple hours of PHR/SPHR re-certification credits:
HRCI / SHRM 60 Hour Re-Certification Training Suite

This suite cover a wide range of professional competencies and knowledge necessary for all Human Resource professionals.
PHR /SPHR Re-Certification Suite - Leave Laws – 32 Re-Cert Hours

This suite provides training for four of the most common - yet hardest to administer - of the federally-mandated compliance laws: COBRA, FMLA, ADA, and Integrating FMLA, ADA, COBRA, and Workers Compensation.
Webinars And Audio Conferences

Almost all of our webinars and audio conferences are approved for 1.5 hours of PHR/SPHR Re-Certification Credits. To find webinars that will advance your career, select HR Webinars from the Calendar menu above. Alternatively, select "HRCI or SHRM Re-Certification" from the search box below.