Lockout Tagout Training
Lockout Tagout is a safety procedure for ensuring that dangerous machines are properly shut off.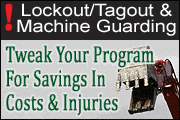 Organizations operating electrical, mechanical, pneumatic, hydraulic, or heavy-duty machines must comply with certain Lockout Tagout rules, including the training, education, and follow up for employees who operate such machinery.
Lockout Tagout Training Objectives
Below are just a few of the things you will learn from our lockout/tagout training courses:
What the LOTO standard requires of you - and how to make sure you're in compliance

How to create and implement an effective, compliant LOTO program, including an easy way to write the machine-specific procedures

The required elements of LOTO training

Effective employee training methods relating to LOTO and guarding

How to recognize hazardous energy sources - for example, hydraulic, pneumatic, residual, and other energy sources - and their controls

Discipline tips for LOTO policy noncompliance that really work to bring about behavioral change

The best way to make sure workers understand their responsibilities and follow specified LOTO procedures

How to deal with outside contractors and service personnel regarding LOTO

The steps for auditing the effectiveness of your current procedures and making changes, if needed

How to use a real-world nine-step LOTO procedure that works

Job hazard analysis tools to identify energy hazards

What you need to know about special LOTO requirements: blanking &blinding, double-block &bleed, line breaking/misalignment, and valve lockout
Find Lockout Tagout Training
HR Training Center offers a variety of Lock Out Tag Out training courses, including Lockout Tagout training for employees and Lockout Tagout training for OSHA compliance requirements.
To find your desired Lockout Tagout training videos, Lockout Tagout training courses, and other Lockout Tagout compliance and educational products, either:
Choose a recommended product below

Select "Safety" from the "Professional Development" section of the search box below

Go to our sister website: The Safety Training Center