The True Costs of Employee Turnover
By Jeff Cavellini
Many companies face challenges when confronted with staff vacancies. Time is money, and unfilled positions translate into lost revenue. However, companies across the country have discovered that filling the openings is an easier and more efficient process once the ... More



Hiring Right The First Time
By Yenisse Alonso
It happens in all organizations: You hire someone who seems perfect for a position but who ultimately fails to live up to expectations. You can't understand what went wrong. The employee's resume was outstanding, detailing the precise skills and experience you soug ... More



9 Survival Strategies For A Corporate Merger
By Business & Legal Reports
While private equity firms and retained executives get rich from lucrative merger and acquisition (M&A) deals, "redundancies" are a fact of life for most management today, according to M&A expert Professor Scott Moeller of Cass Business School, City of London. ... More
Descriptions Now
Write & Manage Job Descriptions The Easy Way



Descriptions Now helps you create job descriptions that attract better candidates, establish consistent performance competencies, improve employee focus, and protect your organization in a discrimination lawsuit.


Provided in CD-ROM format for easy customization, your program includes:
Easy wizard process helps to write and maintain job descriptions in a consistent manner

More than 3,700 pre-written and customizable job descriptions, including:



Complete library of job titles and essential duties

Mix and match duties to create hybrid positions

Add key competencies to better define job requirements

Click and pick required computer skills and knowledge

Intelli-Text technology automatically turns your input into clear, ADA-compliant text

Web-like interface is intuitive and easy to use

Easy to edit, customize, track, and manage job descriptions

Built-in word processor lets you merge duties from multiple jobs and edit, print, export, or even import your existing job descriptions

Intranet-ready – converts your job descriptions to HTML format instantly.

One click brings you up-to-date HR information and advice



Automatically creates behavioral-based interview questions

Easy-to-use Q&A process assures ADA Compliance
Don't wait! Order now!

For more details or to order, go to http://hrtrainingcenter.com/showPADetails.asp?TCID=1000074

Salary Talk: How To Discuss Pay
So Employees Feel They're Treated Fairly



Most managers hate discussing salary with employees. Why? Because money is THE most emotional topic in the workplace and conversations about pay can get uncomfortable, even ugly.

The good news is that there's a way to talk about money without the drama, tension or destructive emotions. The secrets to mastering salary discussions are covered in Salary Talk: How to Discuss Pay So Employees Feel They're Being Treated Fairly.

This Ready-Set-Go program is a convenient training tool to help your managers master the skills needed to lead effective, non-confrontational salary discussions with employees at every level.


The program will show you how to:
Drain the emotion from salary discussions by helping employees see the objective truth about pay

Answer the eight hardest questions employees ask about compensation

Dispel the myth the good performance always equals a big raise

Explain the role your organization's budget plays in determining salary increases

Use "Compa-Ratio" to establish salary levels that work for both the organization and the employee

Prevent workers from decreasing their effort when they can't increase their pay Get employees at every level to understand that a small raise doesn't mean they're "LOVED" any less

Build a 4-step salary System that stands up to the highest level of scrutiny Be sure employees place proper value on factors such as culture, working conditions and opportunity

Respond logically and appropriately to the emotional reactions employees have about their base pay, bonuses and raises

Manage expectations about "salary reality" — which can have a tremendous positive impact on morale, productivity and retention
For more details or to order, go to http://www.hrtrainingcenter.com/showPADetails.asp?TCID=1002743
Certificate Program For HR Generalists
At Last - A 3-Day Program That Provides Practical Solutions to Your Everyday HR Challenges!

As an HR generalist you are expected to be an expert in every human resource function, including the numerous employment laws.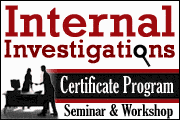 Internal Investigations Certificate Program
This intensive three-day program is designed to provide you with a thorough grounding in internal investigations. Using interactive exercises and drawing on years of practical experience, our trainers will outline a step-by-step process that can be applied in all types of investigations.
Other Events:
Certificate Program in FMLA and ADA Compliance
Public Sector HR Management Certificate Seminar
Advanced Certificate in Conducting Workplace Investigations
See Complete Calendar