Need A Payroll Certification?
Want to be a Certified Payroll Professional? We can help!
HRTrainingCenter offers several Payroll Certification courses to help improve your knowledge, job skills, and pay!
Recommended Payroll Certifications
Find Other Payroll Seminars & Training Courses
Need payroll training for the day-to-day issues? We can help there, too! Listed below are some best-selling webcasts and audio conferences that cover your payroll compliance training needs. Simply click on a course title to see more details or to order!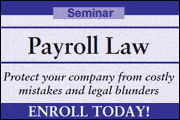 Recommended Payroll Seminars
Recommended Payroll Webinars & Audio Conferences
Below are a few of the Payroll webinars and audio conference titles that we hold each year.
To see the full listing of payroll compliance courses, select "Payroll" from the "Professional Development" section of the search box below.
Pain-Free Tips For Handling Garnishments

Legal Requirements For Handling Unclaimed Paychecks

Questions & Answers For Handling Travel Pay

How To Get Payroll Penalties Waived

Fringe Benefit Accounting and Reporting: Your Guide to Getting It Right

Multi-State Payroll Tax Compliance

Preparing for Year End in Payroll

Year End Legislative and Tax Changes in Payroll

How to Prepare for and Handle a Payroll Audit

How to Document Your Procedures

Issues with Executive Compensation-Making Sure You Minimize Exposure

Structure Altering Events-Mergers, Acquisitions, Downsizing-And How They Affect Payroll

Top Ten Payroll Tax Questions

State Income Tax Withholding-When to tax supplemental, W-4 or aggregate method

Fundamental Of Payroll Taxes

Fundamentals of Form W-2 & W-4 Processing

How to Use Payroll Paycards

Best Practices For Employee Expense Reimbursement
Find Other Payroll Training Classes
To find other classroom, self-study, and online payroll training classes, simply select "Payroll" from the "Professional Development" section of the search box below.