Are You In Compliance With State & Federal Requirements For HR Record & Document Retention?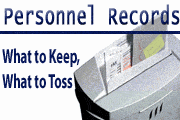 Many federal and state employment laws and regulations include specific HR recordkeeping rules and document retention periods.
And because they are laws, you need to be absolutely confident that all of your employee records, personnel files, and documents - from pre-hire through termination - are legally prepared to defend you.
So ask yourself, whether it is an OFCCP audit, an EEOC investigation, a DOL probe, or an OSHA inspection: Are you sure you are in compliance?
Typical HR Record & Document Retention Questions
How long to retain job applications, resumes, job descriptions, disciplinary letters, attendance records, leave requests, medical-related data, employment agreements, payroll records, salary information, benefits information, and more

Electronic storage requirements: how they differ from paper storage

Which documents you should maintain in separate files

How to handle medical records, and who should - and should not - have access to those files

What to do when an employee (or lawyer) asks to review their personnel file

Best practices for safely destroying records

What does the ADA require for medical files

How to create policies and procedures for maintaining electronic documents

What are the requirements for completing workplace safety and health records

When do employees have the right to inspect their personnel files

What documentation needs to be kept for terminated employees

Do you have to keep every unsolicited application for employment, and for how long?

What should you do with COBRA records after the covered period has ended?

How long do you have to keep an FMLA medical record?

What steps should you be taking to protect your organization from potential legal liability due to identity theft?
Learn the answers to your critical recordkeeping and document retention questions about retaining and disposing of personnel records with our Recordkeeping & Document Retention training.

Find HR Record & Document Retention Training, HR Recordkeeping & Document Retention Policies, & HR Recordkeeping & Document Retention Best Practices

To find HR recordkeeping & document retention training, recordkeeping & document retention policies, and recordkeeping & document retention best practices, either click one of the Recommended Courses below, or select "Recordkeeping / Document Retention" from the search box below.