Improve Your Time Management Skills With Our Time Management Seminars, Books, And Webinars!
Whether you are an HR professional, supervisor, or manager, good time management skills are essential in the day-to-day running of your business - and HR Training Center can help!
We offer a number of Time Management training seminars, books, and webinars that can improve your time management skills, help you with great time management strategies, and just make you and/or your staff more productive!
Here are just some of the time management skills you can learn. How to: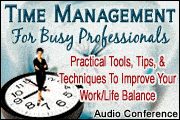 Identify and toss out the non-essentials

Master the art of delegation

Limit interruptions

Use technology as a time saving tool

Overcome procrastination

Become a pro at your ability to just say "No"

Be ready with "enders" when you are trapped in a conversation

Make a life-changing "DON'T do list"

Get out of the office using the quitting time buddy system

Streamline and focus the two most critical work systems

Avoid the temptation to multitask, and much more!
Find Time Management Training Seminars And Other Time Management Courses
HRTrainingCenter.com offers time management training courses for improving your time management skills.
Some of the more-popular time management training courses appear below, and others can be found by using the search box at the bottom of this page.