EEO/AA Compliance Immersion Program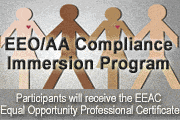 Seminar: ID# 1000542
About This Course:
EEO/AA Compliance Training
CWC's "boot camp" course delivers all of our fair employment and affirmative action offerings in an intensive, one-week session.
Professionals new to the fields of equal employment opportunity, affirmative action, and diversity and inclusion will learn the fundamentals of all federal laws affecting EEO/AA compliance and D&I programs, including Title VII, the ADA, the ADEA, the FMLA, and more. The course also features a crash course on how to investigate and respond to discrimination charges, and an overview on how to develop and defend affirmative action programs.
All attendees who successfully complete the EEO/AA Compliance Immersion course will receive CWC's Fair Employment Professional Certificate at the conclusion of the program.
What You'll Learn:
Identify and address race, color, religion, sex, national origin, age, and disability discrimination

Prevent and address workplace harassment, including sexual harassment

Write and implement best-in-class EEO/AA and D&I policies

Implement aggressive D&I efforts that comply with federal EEO/AA laws

Comply with leave and accommodation requirements

Design and develop effective affirmative action programs

Investigate and respond to discrimination charges

Manage audits by DOL's Office of Federal Contract Compliance Programs
Order:
EEO/AA Compliance Immersion Program
Price: $2,995.00
To order this product, find a location and date that is convenient for you under the "
Cities & Dates
" tab.