Payroll Certification Programs
Need A Payroll Certification?
Want to be a Certified Payroll Professional? We can help!
HRTrainingCenter.com offers two Payroll Certification courses to help improve your knowledge, job skills, and pay: the Certified Payroll Administrator and the Certified Payroll Manager.
Each of our Certified Payroll Professional online classes uses our award-winning training interface, and includes numerous examples, administrative tips, and interactive Q&A with answer rationales to help provide valuable insight into compliance requirements while testing your comprehension and application of the learned material!
Being online, these Certified Payroll Professional online classes also allow you to earn at your own pace without time out of the office!
Recommended Payroll Certification Courses
Why A Payroll Certification
Not only do you learn more with a payroll certification, but having a payroll certification shows others your commitment to your job.
What You Will Learn With Our Payroll Certification Courses
Our Certified Payroll Administrator training and our Certified Payroll Manager courses cover your payroll administration requirements from start to finish, including how to:
Properly "classify" workers
Apply the various exemptions
Calculate gross pay and properly make deductions
Properly identify, pay, and withhold taxes for employees
Administer deferred compensation, cafeteria plan, sick pay, and other compensation
Handle stock options, expense reimbursements, relocation, and other "expenses"
Follow the proper policies, procedures, and documentation requirements for garnishments and levies
Kow the rules for Expatriate employees and international payroll
Establish and maintain self-service systems, direct deposits, and paycards
Select and implement a payroll system
Handle payroll audits
Create a disaster recovery plan
Properly complete and file all required reporting requirements
Correctly complete year-end requirements and establish the year-beginning requirements
Comply with the various record retention requirements
Upon completion, you receive a certificate, suitable for framing, showing your payroll certification. Additionally, each of these courses also qualifies for 32 ours of HRCI's PHR and SPHR re-certification credits, as well as SHRM's SHRM-CP and SHRM-SCP PDCs PDCs.

Find Other Payroll Training Classes

Need payroll training for the day-to-day issues? We can help there, too! Listed below are some best-selling webcasts and audio conferences that cover your payroll compliance training needs. Simply click on a course title to see more details or to order!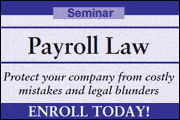 Recommended Payroll Seminars
Recommended Payroll Webinars & Audio Conferences
Below are a few of the Payroll webinars and audio conference titles that we hold each year.
To see the full listing of payroll compliance courses, select "Payroll" from the "Professional Development" section of the search box below.
Pain-Free Tips For Handling Garnishments

Legal Requirements For Handling Unclaimed Paychecks

Questions & Answers For Handling Travel Pay

How To Get Payroll Penalties Waived

Fringe Benefit Accounting and Reporting: Your Guide to Getting It Right

Multi-State Payroll Tax Compliance

Preparing for Year End in Payroll

Year End Legislative and Tax Changes in Payroll

How to Prepare for and Handle a Payroll Audit

How to Document Your Procedures

Issues with Executive Compensation-Making Sure You Minimize Exposure

Structure Altering Events-Mergers, Acquisitions, Downsizing-And How They Affect Payroll

Top Ten Payroll Tax Questions

State Income Tax Withholding-When to tax supplemental, W-4 or aggregate method

Fundamental Of Payroll Taxes

Fundamentals of Form W-2 & W-4 Processing

How to Use Payroll Paycards

Best Practices For Employee Expense Reimbursement
To find other classroom, webinar, and online payroll training classes, select "Payroll" from the "Professional Development" section of the search box below.