Restoration To Position: The "FMLA Light Duty" Rule
By Charlie Bross
When an employee is on an FMLA-qualifying leave because of his or her own serious health condition, this means that the condition prevents the employee from performing at least one of the essential functions of his or her job. However, it may well be possibl ... More



Praise Principles- Release Peak Performance
By Diana Booher
MANY MANAGERS share Pascal's philosophy: "Kind words do not cost much-yet they accomplish much." Indeed, as William James wrote: "The deepest principle in human nature is the craving to be appreciated." Just because praising others comes easily, don't t ... More



What You Need To Know About The EEO-1 Report
By Ross Carlson
The EEO-1 Report - formally known as the "Employer Information Report" - is a government form requiring many employers to provide a count of their employees by job category and then by ethnicity, race and gender. The EEO-1 report is submitted to both the EEOC and t ... More
Earn A

"Certified Payroll Administrator" Designation!
Among all the internal operations of contemporary U.S. businesses, perhaps none is subject to as many governmental regulations and requirements as payroll.

Originally a technical skill, payroll today is a professional discipline.

Now you can enhance your skills with a "Certified Payroll Administrator" designation, which is earned by completing the four courses listed below:

Basics Of Wage & Hour

Paycheck Fundamentals

Payroll Reporting Requirements

Payroll Daily Operations

Each of these courses is a self-paced, online course that uses our award-winning interface that provides plain-English descriptions of the various requirements, processes, and procedures.

The courses also include numerous examples, administrative tips, and interactive Q&A with answer rationales to help provide valuable insight into compliance requirements while testing your comprehension and application of the learned material! Being self-paced, the courses also allow you to earn at your own pace without time out of the office!
... More Details / Purchase
Personnel Law Update (Two Day Seminar)
FMLA Update (Two Day Program - Seminar Plus Workshop)
How To Conduct An Internal Investigation Seminar
In-Person COBRA Seminars
Workers' Comp Update Seminar
Training For COBRA, FMLA, ADA, Payroll, And More!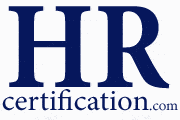 HRcertification specializes in providing Training & Education Programs for HR professionals.

Our award-winning training helps you to better understand and comply with COBRA, FMLA, ADA, Payroll, and other federaly-mandated compliance areas.

Each of our courses use the same award-winning interface that is certified for design excellence by the American Society for Training & Development (ASTD).

By completing the program, you can earn a "Certified Administrator" or "Certified TPA" designation, plus up to eight hours of PHR / SPHR re-certification credits!

Each of these self-paced courses contain numerous tips, examples, and interactive questions to help you understand and comply with the topic area.







Please click on any Program name below to see more information about that Program.
Events:
Human Resources Outsourcing Conference- Beyond Borders: Streamlining, Aligning & Integrating RPO, HRO & BPO
Advanced Certificate in Conducting Workplace Investigations
FMLA Update (Two Day Program - Seminar Plus Workshop)
How To Conduct An Internal Investigation Seminar
See Complete Calendar