Certificate Program In FMLA & ADA Compliance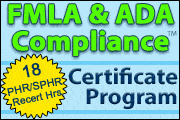 Seminar: ID# 1003552
Pricing:
$2,395.00

Early Bird: $2,195.00
About This Course:

Rating: 4.9 - 296 reviews
Are You Up-To-Date On The Latest ADA And FMLA Rules And Requirements
The requirements for compliance with FMLA and ADA laws have been updated. Have you?
Our comprehensive, three-day program on FMLA and ADA rules and administration guidelines includes 15 information-packed sessions that provide complete A-to-Z coverage of all aspects of the federally-required FMLA and ADA compliance and best practices - plus access to our heralded FMLA and ADA Training & Certification Programs!
Not only will you learn the practical strategies and procedural recommendations that will enable you to tackle the challenging FMLA and ADA issues you confront every day, you'll also get FREE updates whenever FMLA or ADA laws change!
Learn The Key ADA And FMLA Rules For Intermittent FMLA Guidelines, Reasonable Accommodation, And Other ADA And FMLA Employer Requirements - Including For COVID-19
This comprehensive three-day FMLA and ADA seminar and workshop provides you with ADA and FMLA compliance guidelines for employers, including all the tools and practical knowledge you need to effectively manage your FMLA and ADA compliance responsibilities.

Specifically, this course covers the ADA and FMLA rules, laws, and guidelines for employers, as well as the rules for FMLA intermittent leave guidelines, the ADA Reasonable Accommodation requirement, what employers can do to protect against FMLA and ADA abuse, plus:
The ADA and FMLA rules on who is covered - and why

What is - and isn't - a disability

Employee eligibility

Leave entitlement

Employer posting requirements

Intermittent FMLA leave guidelines

When your duty to engage in the interactive process is triggered

Notifications

The laws protecting disabled individuals from discrimination

GINA's prohibition on acquiring genetic information, and its mandatory notice and recordkeeping requirements

What is - and is not - a "serious health condition"

Identifying "Essential Job Functions" and who is a "Qualified Individuals"

Medical Certifications

Fitness-for-duty testing

How to determine if the employee can perform the essential functions of the job

What is a "Reasonable Accommodation"

What types of accommodations have the courts found to be reasonable?

What types of accommodations have the courts found to be an "undue hardship" for the employer?

Responding when an individual refuses an offered accommodation

Modifications

Return-to-work options

Light or modified duty

Job restructuring or additional training

FMLA job and benefits restoration

The most common abuses of FMLA - and why it's happening

Tracking leave, including tips for FMLA intermittent leave

How to identify patterns, trends, and leave abuse history

Ending Leave

How to terminate an employee on a leave of absence without violating the FMLA or ADA

How FMLA, ADA, Workers' Comp, and state leave laws work together

What needs to be included in your FMLA and ADA policies
Re COVID-19
You also receive the latest information on COVID-19 and EEO compliance, including:
Disclosing the names of infected employees
Reasonable accommodations during a pandemic
Dealing with pregnant workers, older employees and others at enhanced risk of COVID-19
Asking employees whether family members have been infected
...as well as the ADA pandemic rules for taking employees' temperatures, giving COVID-19 tests, requiring employees to wear PPE, and vaccination policies.
Includes Interactive Exercises So You Can Practice The ADA And FMLA Rules That You Learn
In addition to teaching you the rules, we incorporate several interactive exercises so you can practice what you learn. These include:
Issues regarding eligibility and administrative requirements

Determining what is a substantial limitation to a major life activity

Analyzing reasonable accommodation requests

Handling overlapping leave and disability law dilemmas

Why a requested leave of absence under the ADA creates an entire minefield - particularly if the employee is on workers' compensation or FMLA
Special Bonus: Earn An FMLA Certification And An ADA Certification!
As a special bonus, you also receive access to our FMLA Training & Certification Program and our ADA Training & Certification Program!
Not only do these programs include numerous administrative tips and procedural recommendations for keeping in compliance, you also receive FREE updates whenever the law changes, plus the ability to earn a Certified Administrator designation!
Simply complete the Training & Certification Programs included with this course, then pass the exam and you will receive a certificate which is suitable for framing
What Customer(s) Are Saying

Our facilitator, Chris, was very knowledgeable. He went above and beyond to seek information from his colleagues with some of our challenges. The materials/forms are very helpful, and I am and will be referring to them regularly.
~ Connie Molinaro

Even though this training was delivered virtually, it was very informative and interactive. The presenter, Natalie Ivey, was exceptional in her knowledge of the material and giving real-life experiences as supporting information. The printed materials also were thorough on the subject matter and easy to follow. I found the whole program to be very helpful.
~ Sondra McKenery

Absolutely wonderful!
~ Lisa Mendoza Klingelhoefer

The materials and content covered were extremely helpful for my position. The scenarios and exercises presented were easily related to current situations and issues that may arise.
~ Connie Mancini

The presenter was extremely knowledgeable in the subject matter and made a virtual experience more enjoyable. While the class size was small, the presenter was able to relate back to each of our organizations.
~ Deanna Prescott
Continuing Education Credits:

Click the 'Credits' tab above for information on PHR/SPHR, PDCs, and other CE credits offered by taking this course.