Internal Investigations Certificate Program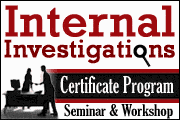 Seminar: ID# 1003554
About This Course:

Rating: 4.87 - 426 reviews
Great Investigations Training For Workplace Investigations!
When you receive an allegation of workplace harassment or discrimination - or believe your organization has become a victim of fraud or theft - taking prompt action is your legal responsibility.
But let's face it: most HR professionals or business owners have never had formal training in how to conduct a workplace investigation or an internal investigation. And without having the proper skills in how to handle allegations in the workplace - and investigate them effectively - employees may feel their complaints are not taken seriously internally.
As a result, employees often take their complaints externally - to the EEOC, DOL, or to their attorney. Therefore, our Internal Investigations training course is a must-attend for those individuals that are responsible for employee relations and the handling of workplace and internal investigations.
After all, is the time to learn how to do an internal investigation when you are suddenly faced with having to do one? Of course not. That's where our training on the HR investigations process can help!
What You'll Learn:
Our intensive, three-day program on the HR investigations process is designed to provide you with a thorough grounding in how to conduct a workplace or internal investigation - and to arm you with the knowledge of how to properly conduct the workplace or internal investigation to minimize legal liability and reduce employee complaints.
This program is packed with practical tools, tips, and techniques to improve your HR investigation process skills - and boost your confidence in handling sensitive and complex employee issues.
Using interactive exercises and drawing on years of practical experience, our trainers will outline a step-by-step internal investigation process that can be applied in all types of investigations, including harassment, theft, drug and alcohol abuse, and domestic violence.
Investigations Training For Understanding The HR Investigation Process
By attending our Internal Investigations training seminar, you will learn how to properly handle a workplace or internal investigation, including:
The legal obligations that require employers to conduct internal investigations
How to gather documentary and physical evidence prior to witness interviewing
How to establish a chain of custody and a confidential retention process
How to prepare questions for witness interviews and select appropriate interviewing locations
A standard format for documenting investigative findings
Best practices in handling disciplinary action and terminations to avoid stepping on legal land mines
Special Bonus: Earn 18 SHRM And HRCI Re-Certification Credits!
You earn 18 hours of SHRM and HRCI re-certification credits by completing this courses!

Special Pricing
An "Early Bird" discount is offered for registrations made 30 days prior to the seminar date, so register today!

Bring This Training To Your Location!

Organizations that need to train six or more people can have us come to you - at a savings of 50% or more. Go to HRTrainingCenter.com/PrivateSeminar.asp for more details.
See All Venues And Dates
Testimonials

Rating: 4.87 - 426 reviews
What Customer(s) Are Saying

I rated the training 5 stars!
~ Kay Hammer

I highly recommend this to anyone who conducts internal investigations.
~ Roschelle Winston

Great job. Loved the class and would recommend to others. Thanks Ken!
~ Zachary Sutty

The instructor was fantastic. She was a great presenter and throughout the training displayed humor, experience, and knowledge. It was apparent that she was a subject matter expert and loved what she was doing. She did a great job!
~ Ashley Davis

The entire course was very beneficial. We regularly conduct administrative investigations and the training and materials provided for use are great!
~ Colbert Stancill
Continuing Education Credits:

Click the 'Credits' tab above for information on PHR/SPHR, PDCs, and other CE credits offered by taking this course.