Certificate Program For HR Generalists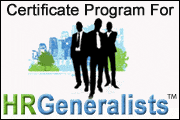 Rating: 4.86 - 640 reviews
Seminar: ID# 1003551
Pricing:
$2,395.00

Early Bird: $2,195.00
About This Course:
At Last - A Program That Covers The Functions Of Human Resources Management!
As an HR Generalist, you are expected to be an expert in every human resource function, including everything from hiring to compensation to payroll to performance management to the numerous employment laws such as the FMLA, ADA, COBRA, FLSA, IRCA, and many more.
Not only do you need to have a strong knowledge base in all areas, but even more importantly, you need to be able to apply your knowledge to the daily situations that arise in your workplace.
Gain Knowledge About HR Manager Responsibilities And The Duties Of HR Managers
This course has been designed to cover the functions of human resource management and to provide you with practical solutions to the HR challenges you confront every day. You'll learn the key duties of an HR manager and get the vital knowledge you need to succeed - plus the critical strategies to perfect your HR skills. You will:
Discover best practices and indispensable strategies for every HR function
Acquire the practical knowledge and tools you need to navigate employment law landmines
Get to practice what you learn through "real-life" case studies!
Network with HR professionals from across the country
Earn an "HR Generalist Certificate" that enhances your professional growth

Learning Objectives
This intensive, three-day training program includes 14 information-packed sessions - plus Interactive Exercises - covering everything you need to excel as and HR Generalist. Here are some of the things you'll learn/benefit from:
Understanding HR's role within the organization to add maximum value
How to create a strategically-aligned HR department to drive organizational results
Strategies for identifying and overcoming the current challenges in the HR profession
Learning what to do to improve HR's brand image within the organization
Employer obligations regarding when to conduct workplace investigations
Common laws that create additional "boundaries" in the contemporary workplace
Understanding today's "must-have" company policies to minimize risk of litigation
Understanding your compliance obligations regarding FMLA, ADA, COBRA, and more
Implementing strategies to control and investigate FMLA abuse
Learning how to handle personal time off (PTO), vacation, sick pay, and workers' compensation
Handling "sticky issues" such as declining employee performance, absenteeism, and unreasonable requests
Recruiting: what's working - and what's not
Contemporary strategies for employee on-boarding - knowing how and when to leverage technology in the process
Learning how to conduct a thorough needs analysis to determine if training is even the answer
Common organizational mistakes in developing training programs and how to avoid them
Learning the critical steps in developing a training project: from initial scope to evaluation of program
Learning why clear, measurable, aligned objectives are the keys to training program success
Understanding contemporary strategies in designing compensation systems
Learning why variable compensation is growing in popularity
Understanding how to create an effective benefits survey to obtain valuable data
Understanding what is working - and not working - in performance management
Beyond reviews: understanding the action steps to effectively manage employee performance
Learning how to identify the issues HR owns vs. what the leadership team owns
Identifying strategies to coach, mentor, and develop supervisors and managers to facilitate more positive employee relations
Your HR Career: where do you go from here?
View the full Agenda
Special Bonuses
:
You'll earn 18 SHRM And HRCI Re-Certification Credits!
You receive access to our Training &Certification Programs for FMLA, ADA, COBRA, and Paycheck Fundamentals
Available in both in-person and video conference formats
See All Venues And Dates
Testimonials

Rating: 4.86 - 640 reviews
Here are just some of what people are saying about our HR Generalist training course:
What Customer(s) Are Saying

The trainer was the best I have had in years. Thank you Terri Lynn Cardona. I came back to my office with so much more knowledge.
~ Kallie Johal

The presenter was very informative and did a great job of explaining how everything we were discussing was applicable in each of our different workplaces.
~ Jennie Wilfong

Excellent training especially for an HR Manager responsible for all aspects of HR in a small business.
~ Angela van Rooyen

Trisha made the three days great. Her ability to engage with the class made it very enjoyable. Great course.
~ Shawn Hammonds

The presentation and the information provided will help me tremendously. I have reffered to my book numerous times since I have been back in the office.
~ Waverli Kimbell
Continuing Education Credits:

Click the 'Credits' tab above for information on PHR/SPHR, PDCs, and other CE credits offered by taking this course.