Certificate Program For HR Generalists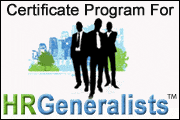 Seminar: ID# 1003551
This course is available in both in-person and video conference formats.
Go to the "Venues/Dates" tab to find a date that is convenient for you.
About This Course:

Rating: 4.73 - 95 reviews
This training session is available in both in-person and video conference formats. Same great training; you simply decide which format best fits your needs!At Last - A Program That Covers The Functions Of Human Resources Management!
As an HR Generalist, you are expected to be an expert in every human resource function, including everything from hiring to compensation to payroll to performance management to the numerous employment laws such as the FMLA, ADA, COBRA, FLSA, IRCA, and many more.
Not only do you need to have a strong knowledge base in all areas, but even more importantly, you need to be able to apply your knowledge to the daily situations that arise in your workplace.
Gain Knowledge About HR Manager Responsibilities And The Duties Of HR Managers
This course has been designed to cover the functions of human resource management, and to provide you with practical solutions to the HR challenges you confront every day. You'll learn the key duties of an HR manager and get the vital knowledge you need to succeed - plus the critical strategies to perfect your HR skills. You also receive access to our Training &Certification Programs for FMLA, ADA, COBRA, and Paycheck Fundamentals!
Learning Objectives
This intensive, three-day training program includes 14 information-packed sessions - plus Interactive Exercises - covering everything you need to excel as and HR Generalist. Here are some of the things you'll learn/benefit from:
Understanding HR's role within the organization to add maximum value
How to create a strategically-aligned HR department to drive organizational results
Strategies for identifying and overcoming the current challenges in the HR profession
Learning what to do to improve HR's brand image within the organization
Employer obligations regarding when to conduct workplace investigations
Common laws that create additional "boundaries" in the contemporary workplace
Understanding today's "must-have" company policies to minimize risk of litigation
Understanding your compliance obligations regarding FMLA, ADA, COBRA, and more
Implementing strategies to control and investigate FMLA abuse
Learning how to handle personal time off (PTO), vacation, sick pay, and workers' compensation
Handling "sticky issues" such as declining employee performance, absenteeism, and unreasonable requests
Recruiting: what's working - and what's not
Contemporary strategies for employee on-boarding - knowing how and when to leverage technology in the process
Learning how to conduct a thorough needs analysis to determine if training is even the answer
Common organizational mistakes in developing training programs and how to avoid them
Learning the critical steps in developing a training project: from initial scope to evaluation of program
Learning why clear, measurable, aligned objectives are the keys to training program success
Understanding contemporary strategies in designing compensation systems
Learning why variable compensation is growing in popularity
Understanding how to create an effective benefits survey to obtain valuable data
Understanding what is working - and not working - in performance management
Beyond reviews: understanding the action steps to effectively manage employee performance
Learning how to identify the issues HR owns vs. what the leadership team owns
Identifying strategies to coach, mentor, and develop supervisors and managers to facilitate more positive employee relations
Your HR Career: where do you go from here?
Special Bonus: Earn 18 SHRM And HRCI Re-Certification Credits!
You earn 18 hours of SHRM and HRCI re-certification credits by completing this courses!
Testimonials

Rating: 4.73 - 95 reviews
Here are just some of what people are saying about this course:
...I learned more at this conference than any other I have attended

...Natalie Ivey was such a wonderful presenter for this certification class and made the three full days of training very interesting. She held my attention the entire time and it never got boring. I am glad I took this class.

...I have already recommended this training to my team! Worth every penny!

...I walked away retaining the information given and came back to my company and implemented so many of the things I learned

...I would highly recommend this course for any HR Generalist who is either just starting in their HR career or even for those generalists who just want to make sure that they are knowledgeable in all aspects of their position. Definitely worth the time!

...Your trainer (Bridget) was wonderful! She was very knowledgeable and approachable. I would highly recommend this program.

...Great class - my head is still spinning with all the great info.

...The presenter (Kara) was awesome. She made the training easy to understand; provided lots of examples which were very helpful; and definitely made it very comfortable for all participants to provide input and ask questions. It is one of the best trainings I have gone to. Thank you!

...Elga was so down with all of her knowledge and the stories she told made it easier to relate to what she was teaching us. I was able to obtain a lot of information by her teaching skills. Very satisfied! Thank you!

...The training was unbelievably helpful, and I think it had everything to do with the material and the Presenter's knowledge about the topic

...I enjoyed the interactive activities, especially where we got to share and listen to what works and doesn't work at our various jobs and companies.

...I would highly recommend this seminar to anyone in the HR profession. Whether you are an HR Generalist or Supervisor, just starting out in your HR career or a seasoned professional, this course contains a wealth of information that anyone can benefit from.

...Absolutely enjoyed it! Natalie - the trainer - was awesome!

...The trainer made sure to integrate our learning with real examples and real cases.

...I enjoyed the class size, as we were able to have multiple productive conversations throughout the classes.

...I liked the interactive classroom time...it created group conversation that lead to other questions and answers.

...Ms. Mary White was an excellent facilitator, and I have already recommended the course to other colleagues.

...Can't say enough positive things about Natalie. She was just fabulous!

...It was truly a great course!

...Mary White was great! She was extremely knowledgeable and a wonderful instructor. I would definitely recommend her class to others.

...The training/trainer was great. I also liked that we had a small group so networking was fun. Hearing about different backgrounds and scopes of work for others was helpful and we were able to apply our experiences to the training material, so that really helped.

...This was a great experience. I am looking forward to more training from your company.

...Natalie's experience and real-world examples were very helpful in understanding how to handle various situations.

...Excellent seminar...plus I have already accessed one of the online courses included with this seminar and found it to be excellent as well.
What Customers Are Saying

The materials and the trainer were awesome.
~ Diosmary Cardentey
Order:
Certificate Program For HR Generalists
Price: $2,195.00
To order this product, find a location and date that is convenient for you under the "
Venues/Dates
" tab.
Qty: 2 - Qty: 5
$20.00
$2,175.00
Qty: 6 - Qty: 10
$60.00
$2,135.00