At HRTrainingCenter.com, we offer several payroll certification courses designed to equip you with the skills needed to become a Certified Payroll Administrator or Payroll Manager. Each of our Certified Payroll classes uses our award-winning training interface and includes numerous examples, administrative tips, and interactive Q&A with answer rationales to help provide valuable insight into compliance requirements while testing your comprehension and application of the learned material!
Being online, these Certified Payroll Professional online classes also allow you to learn at your own pace without time out of the office.
Our Payroll Certification courses are the cream of the crop when it comes to an all-around knowledge of being a payroll professional. They include everything for how to properly manage the payroll operations, including proper tax reporting )like how to complete a 941, W-2, etc.) and the additional reconciliation needed as part of a clear year end process.
Our programs also give the management skills needed to feel confident as a payroll professional. Practically speaking, a payroll certification will give you the well-rounded payroll skills to be successful in many roles within the payroll department.
Our Certified Payroll Administrator training and our Certified Payroll Manager courses cover your payroll administration requirements from start to finish, including how to:
Upon completion of the course, you will receive a certificate, suitable for framing, showing your payroll certification. Additionally, each of these courses also qualifies for 32 hours of Human Resource Certification Institute's PHR and SPHR re-certification credits, as well as the Society for Human Resource Management's SHRM-CP and SHRM-SCP PDCs.
Need payroll training for the day-to-day issues? We can help there, too! Listed below are some best-selling webcasts and audio conferences that cover your payroll compliance training needs. Simply click on a course title to see more details or to order!
Below are a few of the Payroll webinars and audio conference titles that we hold each year. To see specifics or to order a specific course, simply click the course title.
To find other classroom, self-study, and online payroll training classes, either continue reading below or select "Payroll" from the "Professional Development" section of the search box below.
Why Get A Payroll Certification?
The payroll role over time has changed many times, meaning that payroll professionals are challenged not only with understanding many different agency laws in an administrator role, but also advances in technology that has required payroll professionals to be more analytical in nature to make sure systems are designed and performing in both a compliant and accurate manner.
Re payroll laws, governing agencies include the Federal Department of Labor: Wage and Hour division, State Departments of Labor, Federal IRS codes, and State revenue agencies. The laws from these agencies drive how we to make sure that gross pay is accurately being calculated such as gross pay, when we need to pay and how we need to pay, plus how we calculate taxes and deductions for benefits and retirement plans. So the question is: how do I keep up with all of these requirements. The answer: by earning a Certified Payroll Professional Certification.
About Our Payroll Professional Certification Training Courses
Our Payroll Certification training courses are all-encompassing programs that give you the knowledge to do your job accurately and correctly. These payroll training courses cover not only how to properly calculate gross pay, overtime, retirement benefits, Section 125 Cafeteria Plans, taxability of group term life insurance, but items such as special pay or deduction situations (like garnishments, deceased employees, etc.).
Benefits Of A Payroll Certification
Although most HR professionals will need at least some knowledge of payroll, the concepts can be challenging to grasp, especially if you lack experience in accounting.
Though there are no specific educational requirements to work in payroll, some organizations require their HR employees to have payroll certifications or training. Even if your employer does not require you to get certified, taking payroll classes still offers many benefits. However, holding one or more payroll certifications shows potential employers you understand the field, increasing your chances of employment and promotion.
Our payroll certification courses prepare you to handle the day-to-day duties and challenges of payroll, as well as provides the additional skills you need to manage your organization's payroll operations.
These payroll certification courses explain all the aspects of payroll in language that people of any experience level can understand. Although you don't need prior background in payroll or HR to enroll, longtime payroll professionals can still benefit from the in-depth topic coverage.
Not only do you learn more with a payroll certification, but having a payroll certification shows others your commitment to your job, giving employees more trust in your competency and making you more likely to receive a promotion when the time is right. There is also a good probability that a certification will help you earn more money!
Online And In-Person Payroll Certification Classes
Payroll is an important aspect of the HR position. Whether you work as an HR Generalist or a Payroll Specialist, you need to have a strong understanding of payroll rules, regulations, best practices, and reporting requirements to perform your job functions and advance in your career and earning a payroll certification can help you gain the knowledge you need to succeed.
Whether you need to earn a payroll certification to start your career, brush up on your skills, or improve your value, HRTrainingCenter.com offers courses to meet your needs via our Payroll Certification courses.
In addition to online payroll certification courses, we provide additional training opportunities through HR webinars. You can watch the presentations live to gain new information about focused payroll topics or watch the recorded versions on demand at any time.
Program Demo: How The Payroll Training & Certification Program Works
Our Payroll Training & Certification Program includes training that meets instructional design requirements. Namely, each Lesson starts with a Lesson Goals page that outlines the key items that will be taught in that Lesson, followed by multiple pages of training, and concluding with End Of Lesson Quizzes that test against the lesson goals. Read futher for visuals and further explanations.
Lesson Goals
Each self-paced Training & Certification Program is delivered right to your desktop at the time you choose, and is loaded with information, examples, administrative tips, and interactive questions to help you understand and comply with Federally-mandated rules and regulations. You'll learn proactive design and administrative options, as well as key compliance processes and procedures to help reduce costs and health care claims, staring with a Lesson Goals page that tells you what you'll learn in that lesson.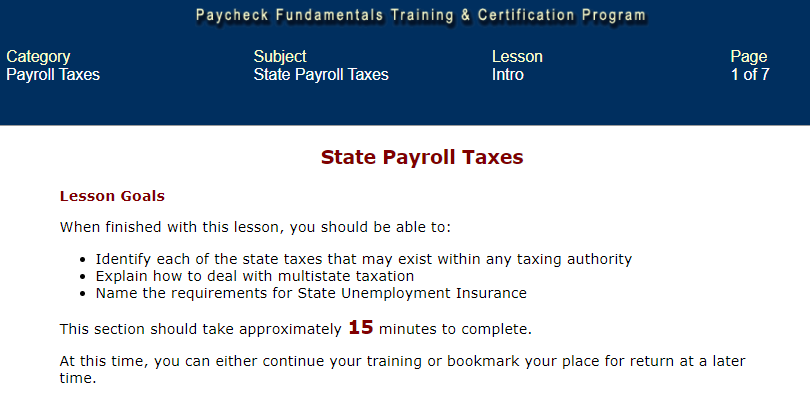 Benefit From Great Content, Easy To Use Navigation
Each of our Training & Certification Programs includes great training content, written in non-legal terms and supported with numerous tips, examples, and procedural recommendations. "Glossary" and "Help" buttons also are included, as well as a special "Bookmark" feature so you can save your place as needed.
End Of Lesson Quiz
Lesson goals and learned content are tested through interactive questions during and at the end of each lesson. Answers to each question are provided right on that page to give you immediate feedback.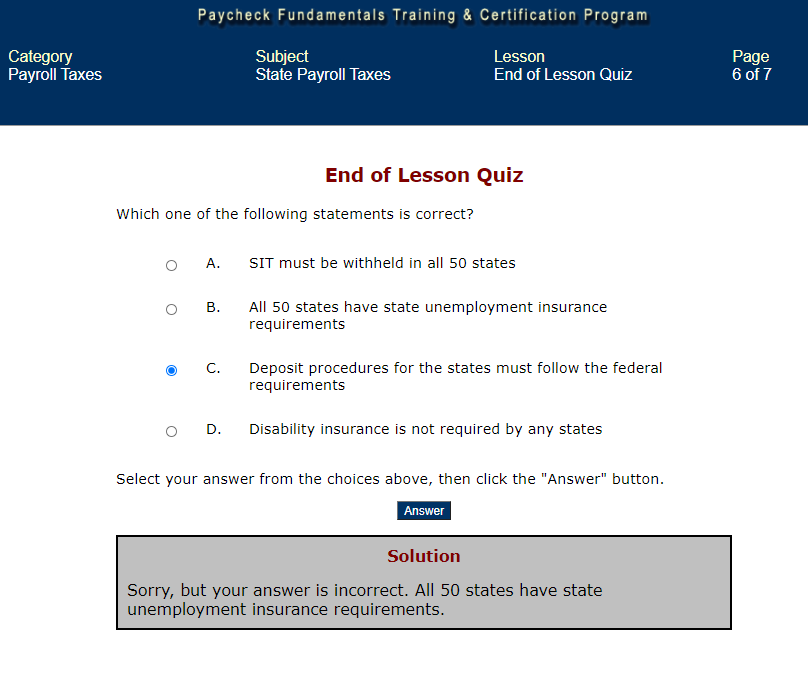 Earn A Certified Payroll Professional Certification!

And don't forget: upon completion of the Training portion of your Program, you can test for "Certification". Certification helps provide confidence to Managers that the person handling Payroll has a good understanding of the complex requirements necessary for proper compliance.
Start Working Toward Your Payroll Certification
At HRTrainingCenter.com, we have provided thousands of companies with payroll training, from large corporations to small businesses. When you're ready to become a Certified Payroll Professional, enroll in one of our payroll certification courses, or contact us for more information today. To find other classroom, webinar, and onl