Find HR Training By Topic
Find HR Training By Topic
HR departments everywhere have evolved from only handling transactional work such as payroll and hiring to playing a strategic role in the overall function of businesses around the world. As a result, HR managers are no longer able to rest on the laurels of their past experience. Rather, they must stay abreast of ongoing changes to federal and state laws; best practices for compensation and benefits; and ways to keep employees safe, engaged, and productive in the workplace.
HRTrainingCenter.com offers instruction across a variety of courses that help you better understand the employment and labor law requirements. Further, these courses cover key HR practices and processes for not only staying in compliance with state and federal laws, but proactively managing the HR functions of your organization.
HR Training - On Your Schedule
HR managers are the first to understand the need for training to do a job well. However, they are also usually the last to set aside the time they need to complete training of their own. Even if you have professional development time built into your schedule, most of that time is spent finding in-person and online training that is suitable for your needs.
Fortunately, HRTrainingCenter.com is a one-stop location for all of your professional and skill development needs. Our comprehensive list of HR training topics includes in-person and online courses in:
HR Compliance | HR Management | Payroll & Compensation | Workers' Compensation
Safety | Professional Development | Certifications
---
HR Compliance
---
ADA Compliance Training
COBRA
FMLA
---
HR Management
---
---
Payroll & Compensation
---
---
Workers' Compensation
---
---
Safety
---
---
Professional Development
---
---
Certifications
---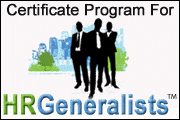 Training Topics For HR Professionals, By HR Professionals
Unlike other training sites, every course supplied by HRTrainingCenter.com has an instructor who is an industry leader or expert in his or her field. Most count toward HRCI and SHRM re-certification — offering practical, evidence-based information in the best HR practices in the industry.
HR training topics for supervisors also are available for non-HR managers and C-suite executives, so they can become more familiar with the functions and practices they need to implement for greater legal compliance, employee productivity, and compensation and benefits practices.
Best of all, HRTrainingCenter.com allows you to track the training progress of your entire organization as it moves through modules, webinars, and other trainings. Imagine the time you will save by having all of your training materials, certification credits, available seminars, and completion certificates in one place. Why wait?
Start your first training module today or contact us for more information about scheduling an in-person training seminar for your organization.
Questions?
Email
or call us at 770-410-1219 at any time.