Developing Compliant Affirmative Action Programs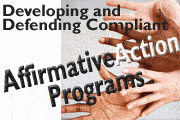 Seminar: ID# 1000271
This course is available in both in-person and video conference formats.
Go to the "Venues/Dates" tab to find a date that is convenient for you.
About This Course:
Develop, implement, and effectively manage compliant AAPs.
Learn how to structure, prepare, and implement fully compliant affirmative action programs for women, minorities, veterans, and persons with disabilities under the regulations enforced by the U.S. Department of Labor's Office of Federal Contract Compliance Programs (OFCCP).
Whether you're starting from scratch, fine-tuning an existing program, or overseeing a third-party consultant, this intense one-day course covers how each component of a fully compliant supply-and-service AAP should be developed and used to ensure full compliance with federal contractor EEO and affirmative action requirements. You'll also learn how AAPs can be aligned with broader diversity and inclusion goals, including D&I representation metrics.
What You'll Learn:
Effectively structure AAPs by entity, location, or function
Building job groups to ensure compliance and minimize risk
Prepare and interpret AAP statistical reports
Calculate internal, external, and final availability estimate.
Set annual goals for women, minorities, veterans and persons with disabilities
Write effective AAP narratives on good-faith outreach and recruitment
Use the AAP to monitor for systemic discrimination indicators
Communicate AAP results to recruiters, hiring managers, and executives
Order:
Developing Compliant Affirmative Action Programs
Price: $399.00
To order this product, find a location and date that is convenient for you under the "
Venues/Dates
" tab.