Developing Compliant Affirmative Action Programs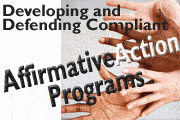 Seminar: ID# 1000271
About This Course:
Learn How To Develop A Compliant Affirmative Action Program
Need to develop or manage the outsourced preparation of an affirmative action program?
Whether you're starting from scratch, fine-tuning an existing program, or overseeing a third-party consultant, this course explains each component of a fully compliant supply-and-service AAP and how these components should be developed. Taught by experienced practitioners who have prepared tens of thousands of AAPs for employers of all sizes and across all industries, you'll come away from this program knowing what you need to know to make sure your AAPs for women, minorities, veterans, and individuals with disabilities are compliant with all OFCCP-enforced requirements.
All participants receive resources to help in developing effective and compliant AAPs, and CWC members gain access to even more tools, templates, checklists, and guides as part of their members-only benefits.What You'll Learn:
Effectively structure AAPs by entity, location, or function
Building job groups to ensure compliance and minimize risk
Prepare and interpret AAP statistical reports
Calculate internal, external, and final availability estimate.
Set annual goals for women, minorities, veterans and persons with disabilities
Write effective AAP narratives on good-faith outreach and recruitment
Use the AAP to monitor for systemic discrimination indicators
Communicate AAP results to recruiters, hiring managers, and executives
Order:
Developing Compliant Affirmative Action Programs
Price: $1,295.00
To order this product, find a location and date that is convenient for you under the "
Cities & Dates
" tab.