HR Management Training Programs
Searching for HR management training courses? Then you've come to the right place!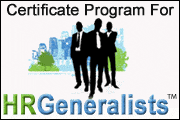 HRTrainingCenter.com offers HR management training courses in a variety of training formats and focus levels. For instance, we offer the following HR management courses:
Online HR management training

In-person HR management seminars or workshops

HR management webcasts

A variety of HR Management certification programs
Learn The Key Duties Of An HR Manager And The Important Functions Of Human Resource Management
The key duties of an HR Manager and the key functions of Human Resource management are more than just being a boss or a shoulder to employees to cry on when things don't go their way. Yes, it means dealing with the "human side" of the business, but it also means objectively planning and meeting your organization's strategic goals. As such, a good HR Manager has to know or have:
Leadership skills

Knowing - and complying with - labor laws such as FLSA, FMLA, and COBRA

Not just handling payroll, but understanding compensation planning and benchmarking

Retirement Plan administration

Workforce planning

workforce training / human resource development

HRMS issues and solutions

HR Metrics

Strategic thinking and planning
Find HR Management Training Courses
To find your HR management training courses now, either select a keyword topic, choose a "Recommended Program", or select "HR Management" from the "Professional Development" section of the search box below.
HR Management Training For Handbooks, Job Descriptions, And More: