Training Programs For Becoming A Human Resources Generalist
Need training for how to become an HR Generalist? Then you've come to the right place!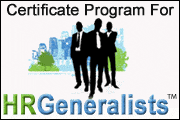 An HR Generalist, also known as a Human Resources Generalist or an HR Specialist, is a jack of all trades when it comes to HR.
As an HR generalist, not only will you handle the basic people issues that come with the job, but you are expected to be an expert in HR functions such as the employment laws for COBRA, HIPAA, FMLA, ADA, the ins and outs of Retirement Plans, the basic rules for Payroll, and more.
And not only do you need to have a strong knowledge base, but even more importantly, you need to be able to apply your knowledge to the daily situations that arise in your workplace.
Training - or even a Certification - as an Human Resources Generalist will greatly enhance your value to your organization, as well as your paycheck!
Find HR Generalist / HR Specialist Training
HRTrainingCenter.com offers a variety of HR Generalist training courses across the country via our Certificate Program for HR Generalist training seminar. Simply click the applicable link below for your desired city.