Don't Travel: Bring Great Training Right To Your Location!
Need training, but prefer to have us come to you? Save time, money, expenses, and lost productivity from being out of the office by having TrainingCenter bring it's renowned educational programs directly to your location!
We offer a number of great programs that you can offer right in your office or city. And not only will our training save your organization time and travel costs, we can even customize the training for you!
Course Listing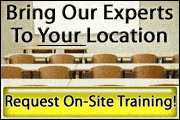 We have many classes available for private training, including:

...and tons more! Just click the title of the class you are interested in to see a full description of the content or contact us with questions.

Benefits Of Private Training:
Cost-effective
Convenient
Customizable
Confidential
Positive effect on team dynamics
Flexible: You decide the best date and time to meet based on your company or team's schedule
Pricing
On-site training is definitely more cost-effective if you need eight or more people trained. Generally speaking, the costs are as follows:
Base cost of $9,950, which covers all costs and materials for up to ten employees
$499 for each attendee over ten*
Up to two hours of customization provided free**
Speaker fee included
You also are responsible for any travel, hotel, and venue costs. Even so, the total cost is still more than 50% off of the costs of sending your team to one of our publically-held sessions!
Questions? Want To Get Started?
If you have questions, either on a particular course or if you want training in an area not listed above, or simply want to schedule training, call us at 770-410-0553 and we'll be happy to assist you.
We look forward to hearing from - and working with - you!
Your TrainingCenter Support Team
770-410-0553




* DiSC training programs require an additional fee of $99 per employee to cover the cost of their assessment.

** "Customization" is commonly done on the course examples and interactive exercises, but any portion of the courses can be customized. Any additional fee would be charged on a case-by-case basis depending upon the amount of customization requested.