ADA Compliance Training Classes
ADA Guidelines And ADA Compliance Training
Learn About Your ADA Compliance Requirements
The Americans With Disabilities Act (ADA) is one of many federally-mandated laws for which employers must meet ADA guidelines for administrative compliance.
Administering the ADA is complex when you consider what you can and can't ask during interviews, when dealing with reasonable accommodation requests, etc., but even more so when you have to integrate ADA laws with FMLA, Workers' Comp, and other laws.
Here's some of what you'll learn with our ADA compliance training courses for meeting your organization's ADA guidelines compliance requirements:
Basic requirements

Protected individuals

The ADA "Reasonable Accommodation" Requirements

Job restructuring

Medical Examinations

ADA and employer-sponsored group health plans

The ADA and mental disabilities

How much medical information should you gather, if any?

What about mental impairments that are hard to get a handle on?

When is an impairment a safety threat?

How much is too much accommodation, and when is it not enough

Documenting the discussion

Interaction of ADA with other laws
Find ADA Compliance Guidelines Training Courses
HR Training Center offers a number of ADA training courses, including in-person ADA seminars, ADA training webinars and audio conference, and online training courses to help you better understand and administer your ADA compliance requirements.
To find ADA compliance training courses that meets your needs, either choose a "Recommended Program" or use the search box below!
Recommended Training Courses: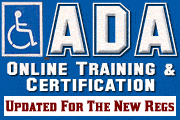 In-Person Seminars, Workshops, And Video Conferences
Online Training Courses
Webinars Or Audio Conferences
Find Seminars, Webinars, And Online Training In Your Area
Related Links: ADA Training