Anti-Harassment Prevention Training
Need Conflict Management And/Or Anti-Harassment Prevention Training?
Learn How To Prevent Bullying And Harassment In The Workplace

Workplace harassment and bullying is becoming an epidemic. And often, HR doesn't find out until the workplace harassment gets to bad that the employee files a lawsuit claiming workplace bullying and a hostile work environment.

So what CAN you do to prevent conflict management such as workplace harassment and bullying in the workplace and an otherwise hostile work environment? And what SHOULD you do if you find out about it after the fact? The best option is to provide harassment prevention training in your workplace.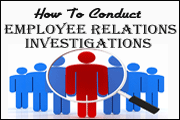 Tips For Bullying And Workplace Harassment Prevention

Here are just some of the anti-bullying, anti-harassment, and and workplace harassment prevention things you can learn from taking our anti-harassment training courses; specifically, how to:
Define behaviors that constitute bullying or other conflict management issues
Learn prevention and intervention strategies organizations should implement to reduce the misconduct
Determine if an investigation is necessary
Explore the intricacies of interviewing the accuser, the accused, and witnesses
Differentiate between formal and informal investigative procedures
Reach a conclusion following an investigation
Write a formal report outlining the investigation
Conflict Management Training: Find WorkPlace Bullying And Workplace Harassment Prevention Training

HR Training Center provides a number of bullying, anti-harassment, and workplace harassment prevention training and other conflict management courses. Listed below are some of our most-popular training courses for preventing bullying and harassment in the workplace. Either select one of these recommended courses or select "Bullying/Harassment Prevention" and your state from the "Professional Development" section of the search box below.
Recommended Training Courses:
In-Person Seminars
Webinars Or Audio Conferences
Find Seminars, Webinars, And Online Training In Your Area
Share on Facebook
Share on Twitter