Business Writing For Results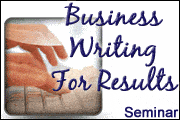 Seminar: ID# 1003605
Pricing: $199.00
About This Course:
Learn The Best Techniques For Business Writing
You might think that writing is a talent that a few lucky people are born with.
Sure, it comes more naturally to some, but don't buy into the myth that only certain people can write. If you've always told yourself - and others - that you just don't have a gift for writing, it's time to dispel that notion!
You can produce clear, sharp, effective copy - it's just a matter of learning a basic set of writing skills.
What You'll Learn:
See Immediate Improvement In Every Writing Project!
No more missed deadlines! Learn professional writing techniques that help you overcome writer's block and complete every writing project faster and easier
Get support and approval for your ideas with proposals, letters, and memos that inform and persuade your reader
Use surefire tips for writing tough assignments - "bad news" memos, complaint letters, memos to top management and more
Discover professional writing strategies that help you tackle even the most complex writing projects with ease
Attend this business writing seminar and you'll learn, step-by-step, how to shape your thoughts and organize your words. Forget about stuffy grammatical rules that are complicated and hard to remember.
This seminar focuses on day-to-day writing, bringing you up to speed with skills that will be useful to you for the rest of your life.
Continuing Education Credits:

Click the 'Credits' tab above for information on PHR/SPHR, PDCs, and other CE credits offered by taking this course.