Certificate In Essentials Of Human Resource Management Seminar
Seminar: ID# 1277707
Attend this seminar and you will: 1) improve your on-the-job performance and skills...immediately; 2) increase your confidence in dealing with complex workplace issues; and 3) increase your value to your organization.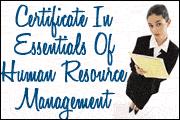 Upcoming Seminars:
We are sorry, but there are no in-person dates currently available for this course. We suggest you either search for another course, bookmark this page and check back later, or contact us to be notified when dates for this course are again available.
Sorry, but this seminar is fully booked.
Click here
to find other venues/dates for this seminar.
Need training or resources in other areas? Try our other Training Center sites: