Certificate In Essentials Of Human Resource Management Seminar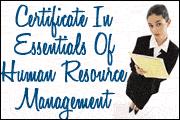 Seminar: ID# 1003529
About This Course:
Learn All Of The Essentials Of Human Resource Management
This week-long seminar provides a sound overview of employment laws and a solid foundation of human resource management principles, strategic thinking, and decision-making in the workplace.
Taught by a faculty of leading employment law attorneys and human resources consultants, you'll learn the skills and insight you'll need to achieve the highest level of professional performance.
This seminar is primarily designed for those with less than 3 years experience in HR/employment law, or for individuals who have an HR department with less than 3 employees handling everything.
What You'll Learn:
Your on-the-job performance will immediately improve
You'll gain all the information needed to understand and participate in a variety of human resource functions and activities
Your confidence in dealing with complex and often perplexing human resource and employee relations law issues will increase!
You'll also receive specially-prepared reference materials that serve as valuable on-the-job desktop reference materials.
The Certificate in Essentials of Human Resource Management is awarded after a participant attends the full 4½ day seminar. No examinations are given. These handsome certificates are mailed after the end of each program.
Order:
Certificate In Essentials Of Human Resource Management Seminar
Price: $2,375.00
To order this product, find a location and date that is convenient for you under the "
Cities & Dates
" tab.