Certificate In Essentials Of Human Resource Management Seminar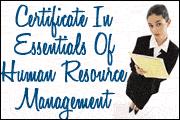 Seminar: ID# 1003529
This course is available in both in-person and video conference formats.
Go to the "Venues/Dates" tab to find a date that is convenient for you.
About This Course:
The 4½ day Certificate in Essentials of Human Resource Management Seminar provides a sound overview of employment laws and a solid foundation of human resource management principles, strategic thinking, and decision-making in the workplace.
Taught by a faculty of leading employment law attorneys and human resources consultants, you'll learn the skills and insight you'll need to achieve the highest level of professional performance.
This seminar is primarily designed for those with less than 3 years experience in HR/employment law, or for individuals who have an HR department with less than 5 employees handling everything.
What You'll Learn:
You'll receive a comprehensive overview of all facets of human resource management. This 4½-day seminar (divided into two blocks of instruction) provides a balanced and practically oriented foundation in critical human resource subjects including legal aspects of HR management; hiring strategies; training; and compensation practices. Designed for entry-level HR professionals, this is the perfect seminar for anyone seeking "one-stop" efficiency in getting a complete grounding in human resources management.
Order:
Certificate In Essentials Of Human Resource Management Seminar
Price: $2,375.00
To order this product, find a location and date that is convenient for you under the "
Venues/Dates
" tab.