Collections Law
Seminar: ID# 1268409
Collect What Is Owed To You — Legally, Fairly, And Promptly

Whether you collect primarily from consumers, businesses, or large corporations, what you learn here will make your job that much easier!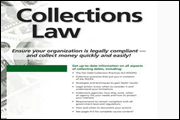 Upcoming Seminars:
We are sorry, but there are no in-person dates currently available for this course. We suggest you either search for another course, bookmark this page and check back later, or contact us to be notified when dates for this course are again available.
Order:
Collections Law
Pricing:
$199.00
Metropolitan Area:
Knoxville
Venue:
Live Online Seminar
9am-4pm EDT; 8am-3pm CDT
Knoxville-ONLINE
770-410-1219
Date:
7/14/2020 (9:00 - 4:00pm local time)
Qty:
Need training or resources in other areas? Try our other Training Center sites: