Disability/Leave/Absence Management Training Courses
Need Leave And Absence Management Training?
Searching for disability, leave, or absence management training? Then you've come to the right place!
What Is A Leave Of Absence?
For HR purposes, a "leave of absence" is a period of time that someone will be away from their job while maintaining the status of employee.
Leaves of absence generally are taken due to the employee's own - or family's - medical issue, such as a birth or disability. Many leaves are often unpaid, and are often governed by FMLA, ADA, or other state and federal laws.
Employer Requirements For A Leave Of Absence
There are several laws that affect disability, leave, or absence management, including the ADA, FMLA, and Workers' Compensation. Employers must know their compliance responsibilities for these federal laws, as well as the similar state-specific laws.
Employers must know the specifics of each, including requirements for Reasonable Accommodations, Medical Certification, Return-To-work, pregnancy, and more.
Many employers also offer disability insurance (broadly defined as any employee benefit that provides income replacement and/or job protection to employees who are unable to work due to illness or accident), so employers need to know the ins and outs of these products, as well as how they interact with their legal requirements.
Essentially, employers must know: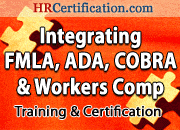 The legally-mandated federal and state requirements for laws such as FMLA and ADA
The definition of a disability under the Americans with Disabilities Act
When is a condition not a disability
How much disability leave employees may take under different circumstances
The processes and procedures for requesting various leaves
What to do when the employee does not mention she or he has a disability even though you see clear performance problems related to physical and/or mental limitations
How to approach an employee with a suspected disability without being accused of harassment or risk being sued for disability discrimination
What to do when you want to discipline and employee who mentions that the work problems are related to a disability
How to conduct an interactive meeting with the employee
When can you stop an accommodation
Whether the employer wants to offer disability insurance
If offered, for when and how long would insurance or income replacement benefits be available
When an employee who suffers a workplace-related injury or illness that results in a disability may receive workers' compensation benefits
As if this isn't enough, while the disability, leave, or absence management laws for FMLA, ADA, COBRA, and Workers' Compensation are difficult enough to administer independently, employers must determine which rule or law takes precedence over another.
Find Disability, Leave, And Absence Management Training Courses
HRTrainingCenter.com offers valuable disability, leave, and absence management training courses, including help understanding:
ADA requirements
The FMLA and other leave management regulations
Leave management administration
Your FMLA and leave management compliance responsibilities and requirements
Workers' Compensation requirements
How to integrate FMLA, ADA, COBRA, And Workers' Compensation
Listed below are some of our most-popular leave management training courses. Either select on of these recommended courses or select either "ADA" or "FMLA" from the "Professional Development" section of the search box below.
Top FAQs
What is "Leave Management"?
Leave management includes the processes and requirements of managing employee absences, such as vacation, holidays, sick leave, and parental leave.
What laws govern "Leave Management"?

Leave Management laws include FMLA, ADA, COBRA, Workers' Comp, and more.
What is the toughest part of Leave Management?

Arguable the most confusing aspect of Leave Management is understanding the benefits for each law - including knowing both state and federal law - for FMLA, ADA, and other laws, especially if the various laws conflict or overlap.
More Info
What are some of the job components of Leave Management?

Handling claims, medical certifications, return-to-work, terminations, and more.
Are "Leave Management" laws ofter abused by certain employees?

They definitely can be. For instance, though FMLA permits up to 12 weeks of leave, certain employees always seem to take a Friday or Monday off under leave laws, so employers need to know what and how they can fight against abuse.
Find Seminars, Webinars, And Online Training In Your Area
---
Related Links