DiSC Assessments & Training Courses

Used by over 40 million people worldwide, DiSC is the most effective personal assessment tool to improve individual and team effectiveness in the workplace. Translated into more than 20 languages and used by over 40 million people, DiSC is the go-to source when business, groups, and individuals want to improve personal communication, enhance management skills, develop leaders, strengthen sales, and build effective teams.

What Is A DiSC Assessment?

DiSC is an assessment tool that helps people and teams understand their personal styles, and allows them to effectively understand and adapt to the styles of others.

Each DiSC assessment provides insights into an individual?s priorities, with useable guidance on how to enhance individual effectiveness. The result is increased understanding and communication that leads to improved productivity and better business outcomes.

Capitalizing on this diversity helps organizations of all types improve work environments through enhanced understanding of coworkers? styles. A key concept of DiSC is that we all have the capacity to modify our behavior, and by adapting to those around us we become more effective through improved communication and reduced conflict. DiSC is non-judgmental and provides a common language to assist people in discussing their own behavior and understanding the behavior of others.

Bottom line, a DiSC assessment:
Increases awareness of our own behavior and how to leverage our strengths

Facilitates better teamwork and minimizes team conflict

Provides a method for understanding our own communication style, and how to adapt to the styles of our customers

Improves understanding of our reactions to stress, decision making, conflict, and team participation

Provides a method for working with our supervisor to increase satisfaction, decrease conflict, and improve access to resources

Improves our management effectiveness by effectively motivating, developing, and directing employees according to their work style

Helps us become better leaders
What Does "DiSC" Mean?

Each letter in DiSC stands for a different style. Each of us has a dominant style that influences our behavior. Our behavioral preferences tend to be consistent and we are often predictable in the way we respond to different situations. But we have the capacity to adapt our behavior in different circumstances to become more effective.

It is important to remember that all styles are valuable and no report is better than another. We should also remember that all of us has all of the different styles in us at any given time. Some styles are more prevalent than others.

D= Dominance
Dominance people tend to be direct, self-confident, and results oriented. The like immediate results and often are willing to take risks to achieve success. They tend to be motivated by challenge and the ability to control their environment. When overused they may be impatient or lack concern for others.

I = Influence
Influence people tend to be energetic and people-oriented. They are characterized by enthusiasm, charm, and optimism. They move fast and bring energy to the group. The influence style is motivated by relationships and social recognition. When overused they may lack follow through or organization.

S = Steadiness
Steadiness people tend to be loyal, stable, and great team players. They typically are calm, patient, and are often good listeners. They are motivated by a stable environment and appreciate a collaborative environment. When over used the steadiness style may hesitant to change and overly willing to please.

C = Conscientious
Conscientious people are all about quality and precision. They have high standards for themselves and others and place a high value on accuracy, systems, and analysis. They are motivated by clear standards and the ability to perform quality work. When over used the conscientious style may over analyze and be overly critical of themselves and others.


DiSC Assessment Profiles For Every Situation!

The DiSC model has been applied to almost every work situation. Below are the most popular DiSC Assessment types (click the appropriate title to learn more or to order that specific DiSC Assessment tool):
---
Recommended DiSC Assessment Training Options
---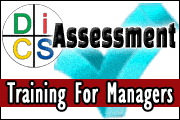 Questions?

Please contact if you have questions or would like to schedule a DiSC Assessment training session for your organization.