Need Affirmative Action Training? Help Writing Your Affirmative Action Plan?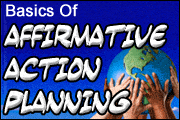 What Are Affirmative Action Program Requirements?

The term "Affirmative Action" describes policies aimed at a non-dominant group to promote its access to education or employment. Equal Employment Opportunity (EEO) prohibits discrimination against employees on the basis of race, sex, creed, religion, color, or national origin.

There are certain laws, responsibilities, and reqirements that organizations must follow - and be included in your Affirmative Action plan - to be in compliance with these laws.


So, if you are searching for Affirmative Action or EEO compliance training - or for help with writing your OFCCP compliance plan - you've come to the right place! Here is just some of what you'll learn:
Affirmative action laws, background, trends, the Equal Employment Opportunity Commission (EEOC), and the Office of Federal Contract Compliance Programs (OFCCP)

Affirmative Action Plan (AAP) requirements

How to conduct a two-factor analysis

How to complete workforce and employee compensation analyses

How to conduct an affirmative action self-audit

Federal and state laws on racial discrimination, equal pay, gender discrimination, employment age discrimination

How to prepare for an OFCCP audit
Find EEO Compliance Training & Help For Developing An Affirmative Action Plan
HR Training Center provides a number of EEO and affirmative action training courses, including in-person Affirmative Action / EEO seminars and workshops.

Listed below are some of our most-popular training courses for your EEO training needs or for developing your organization's affirmative action plan. Either select one of these recommended courses or select "Affirmative Action / EEO" from the "Professional Development" section of the search box below.