Managing with Assertive Confidence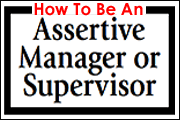 Seminar: ID# 1003968
About This Course:
Learn to take charge and get the job done… and earn respect, loyalty and admiration along the way
This exciting one-day seminar showcases the skills that can help you leap the hurdles you face every day, earn more respect from everyone and be confident in your role as a manager and leader. You'll feel more prepared to "go to bat" for your employees, yourself, your managers, your organization … and project an assertive, straightforward style, consistently, every time!
Enroll today and draw on some of the best ideas and methods available for more assertive, proactive management.
We Will Show You How To:
Ask for what you need… and get it

Get control over conflict

Give positive, constructive criticism

Handle criticism without losing dignity or self-confidence

Set boundaries that employees respect

Increase your self-image and confidence
"Assertive" doesn't mean overbearing, pushy or autocratic; the assertive style is a balanced approach that ensures you work well with people, get things done and accurately communicate — all in the same level-headed, confident manner.
Order:
Managing with Assertive Confidence
Price: $149.00
To order this product, find a location and date that is convenient for you under the "
Cities & Dates
" tab.