---
About PHR And SPHR Certification
---
When it comes to advancing your career in human resources, there are few more widely recognized credentials than the PHR and SPHR certifications. Awarded by the HR Certification Institute, PHR or SPHR certification seems to open many doors for advancement that would otherwise be closed.
What Is PHR or SPHR Certification?
PHR (professional in human resources) certification is a widely accepted way to establish yourself in the field. PHR certification requirements include a master's degree and at least one year of experience in a professional HR position; a bachelor's degree and two years of experience; or a high school diploma and at least four years of experience. At that point, you can register to take a three-hour exam covering topics such as business management and strategy, planning and employment, HR development, compensation and benefits, risk management, and labor relations.
SPHR (senior professional in human resources) certification shows the recipient's ability to make strategic decisions and create policy for organizations, rather than managing the day-to-day tasks associated with HR in the U.S. SPHR certification requirements include a master's degree and at least four levels of professional HR experience; a bachelor's degree and five years of experience; or a high school diploma and at least seven years of experience. The three-hour exam covers many of the same topics as the PHR certification exam, with a heavier emphasis on business management and strategy, and HR development.
HRCI provides career development through their PHR, SPHR, and other certifications. Generally speaking, their courses focus on:
Workforce Planning and Employment
Employee and Labor Relations
Compensation and Benefits
HR Development
Business Management and Strategy
Risk Management
Essentially, you take their courses to earn a certification, then have to take re-certification courses to maintain your certification.
---
PHR/SPHR Exam Prep Programs
---
With a 55% pass rate, the HRCI certification exam is not easy to pass. The most successful PHR and SPHR test takers typically rely on preparatory certification classes that review relevant materials for maximum success.
SPHR certification prep classes help students review areas of their HR expertise that may be rusty while focusing on the business strategy and HR development areas that are so important to the SPHR certification test. Though not required to take the exam, we strongly suggest that you take either of the PHR/SPHR exam prep programs listed below: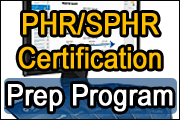 PHR/SPHR Exam Prep Seminar (In-Person Workshop)

Our instructor-led PHR / SPHR exam review program includes six modules that align with, and are designed to help you pass, the exam.
PHR/SPHR Certification Exam Prep Program (Self-Study)

Though many HR managers are intimidated by the prospect of a 175-question certification exam covering the entire human resource body of knowledge, there is no need to worry. The HRCP program thoroughly covers the essential topics in human resource management, and is carefully updated each year to reflect changes in the field of human resource management and the content outline used by the HRCI in designing the PHR and SPHR exams.
---
PHR/SPHR Re-Certification Credit Courses
---
The following courses offer multiple hours of PHR/SPHR re-certification credits:
HRCI / SHRM 60 Hour Re-Certification Training Suite

This suite cover a wide range of professional competencies and knowledge necessary for all Human Resource professionals.
PHR /SPHR Re-Certification Suite - Leave Laws – 32 Re-Cert Hours

This suite provides training for four of the most common - yet hardest to administer - of the federally-mandated compliance laws: COBRA, FMLA, ADA, and Integrating FMLA, ADA, COBRA, and Workers Compensation.
Webinars And Audio Conferences

Almost all of our webinars and audio conferences are approved for 1.5 hours of PHR/SPHR Re-Certification Credits. To find webinars that proved PHR or SPHR recertification credits, either go to our Events Calendar or select "HRCI or SHRM Re-Certification" from the search box below.
Demonstrate Mastery In Your Field
PHR and SPHR certifications are ideal ways for HR professionals to demonstrate the breadth of their knowledge, even if their current position does not. These certifications also encourage continuing education for periodic re-certification. This allows HR managers to refresh their skills, stay up to date on the latest legal challenges, and gain new skills as the profession changes. Since these certifications also have a reputation for being challenging to acquire, people who have them are believed to be exceptional professionals when hiring.
Register Today
The best way to achieve successful PHR or SPHR certification is to take preparation courses. Below, view available PHR and SPHR certification courses. Then, sign up for the course you need, or feel free to contact us with any questions. We look forward to helping you take the next step in your career.