HR Specialist Training
How To Become A Human Resource Specialist - HR Specialist Requirements
A Human Resources Specialist, also known as an HR Generalist, an HR Compliance Specialist, or an Human Resources Benefits Specialist, generally handles a variety of HR functions, including everything from hiring to compensation to payroll to performance management to complying with numerous employment laws.
In many organizations, the Human Resources Specialist can be both a starting and an intermediate-level job, often reporting to an HR Manager, VP, or someone else higher up in the organization.
If the organization is large enough, it might have an HR Compliance Specialist to handle FMLA, ADA, COBRA, and other state and federal laws, a Human Resources Benefits Specialist to handle insurance and other employee benefits, plus a Payroll Specialist to handle payroll. For small to mid-sized companies, the Human Resources Specialist typically handles all of the functions applicable to HR.
What Does A Human Resource Specialist Or HR Generalist Do?
The job functions and skills required of a Human Resources Specialist / Human Resource Generalist can include:
Hiring, coaching, and firing employees
Handling all aspects of payroll
Managing personal time off (PTO), vacation, sick pay, and workers' compensation claims and issues
Understanding compliance obligations regarding to FMLA, ADA, COBRA, and other state and federal laws
Implementing strategies to control and investigate FMLA abuse
Conducting workplace investigations
Aligning HR with organizational goals
Is There A Difference Between HR Generalist And An HR Specialist? An HR Generalist And An HR Administrator?
There really is no difference between HR Generalist and HR Specialist, Human Resources Specialist, HR Compliance Specialist, or other similar titles.
Re the difference between an HR Generalist And An HR Administrator, the latter term generally applies to someone administering compliance with retirement plans, cafeteria plans, payroll, or state and federal laws such as FMLA, ADA, and COBRA. While the title of HR Administrator generally implies a bit more responsibility, the work can be done by someone with either title.
How To Become A Human Resource Specialist: Are There Human Resource Specialist Or Human Resource Generalist Education Requirements? Are There HR Generalist Certification Requirements? How To Get HR Certification Without Experience?
There are no educational requirements to become a Human Resource Specialist / Human Resource Generalist, so, no, you do not have to earn a Human Resources Specialist degree. Similarly, there are no HR Generalist certification requirements, though having a certification can certainly help in both getting or doing your job. So, how to get HR Certification without experience?
Many individuals become Human Resource Specialists simply by getting a job in HR and having that be their job title. That said, taking Human Resource Specialist training courses - including an HR certification program - should both help you get a job in HR and improve your skills and productivity while doing the job.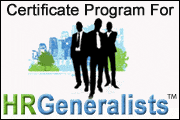 Find Training To Become A Human Resources Specialist
Arguably the best HR certification program, and in many states, only training to get and improve your job in HR is via our 'Certificate Program or HR Generalists', which is an in-person seminar covering all of important aspects of working in HR. You can find more details, as well as available cities and dates, by clicking the link below or by using the search box below.
Recommended Training Courses:
In-Person Seminars
Find Seminars, Webinars, And Online Training In Your Area