I-9 And E-Verify Training
Resources For I-9, E-Verify, And Immigration Compliance Training And Documentation
Immigration enforcement is on the rise. With increased funding and driven by public outcry, Immigration and Customs Enforcement, or ICE, is on the audit trail, ready to levy big fines for employers not in compliance.
In fact, the U.S. Immigration & Customs Enforcement (ICE) is going all-out in its "bold new audit initiative" to crack down on employers who violate immigration laws. Administrative I-9 audits are ICE's tool of choice.
Too often, company execs and HR managers assume their I-9 compliance practices are in order when, in fact, their records and policies are littered with mistakes, leaving the business and individuals open to fines, lawsuits, and jail time. Are you sure that your I-9 practices can pass muster?
Take An I-9, E-Verify, Or Immigration Compliance Training Course!
Don't take the chance of being out of compliance, take one of our immigration compliance training courses where you can learn: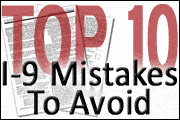 I-9 101: Discover the 10 essential steps to correctly fill out the revised version of the I-9.

Documents: Which documents can you review for Lists A, B, and C - and what has changed?

Copying: Should you make copies of driver's licenses and other supporting documents?

Review: How far are you required to go to determine if a document is "genuine"?

Retention: Where must you store I-9s? Is a "binder system" the best? And how long must you retain them? Is it 1 year, 3 years, more?

Disposal: What's the proper way to discard of I-9s? Must you shred them?

Re-verification: How can you handle re-verification in the most legally safe and efficient way possible?

Internal audits: What can be corrected and who should be auditing?

Best practices: What else should you be doing?

Electronic I-9 systems: What to consider when going paperless
Other learning objectives from our I-9 training courses include:
Current requirements for I-9 form and E-Verify compliance

Common I-9 completion mistakes to avoid

Best practices for filling out the I-9 and legally acceptable ways to verify workers' documentation

Form I-9 re-verification requirements for non-U.S. citizens and non-permanent residents

How to handle I-9s for returning workers

How to complete I-9s for new employees using automatically extended employment authorization documents (EADs)

Tips for copying and storing I-9s - from supporting documentation to paper I-9s and electronic records

When it is safe to destroy old I-9s

Recordkeeping errors that attract ICE scrutiny and hefty fines

Advertising openings without breeding citizenship-based discrimination claims

What information you should - and shouldn't - demand of applicants and employees

Preparing for an ICE audit
Find I-9 and E-Verify Compliance Training Courses
HRTrainingCenter.com offers a number of products and services for your I-9 and E-Verify training and compliance needs, including training for correctly completing the I-9 and E-Verify forms.
Below are a few of our best-selling I-9 compliance training products. For a complete list of our I-9 products, select "I-9" from the "Professional Development" section of the search box below.
Find Seminars, Webinars, And Online Training In Your Area