Guidance For Good Job Descriptions
Job descriptions are put in place to help employees understand their roles and responsibilities.

Well-written job descriptions clearly explain what a person in a given position does, what are the functions performed, the performance expectations, responsibilities, and applicable working conditions.

What Are The Basic Job Description Requirements?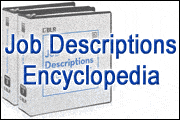 Good Job Descriptions cover:
Title of the position

Overall responsibility

Key areas of responsibility

The necessary skills and experience required for the job

To whom the person directly reports

Those who the person works with on a regular basis

Term of employment
The Problem With Job Descriptions & Job Description Templates

Unfortunately, HR job descriptions often are the first document looked at in internal or legal disputes or during a regulatory agency's inquiry.

Make sure your HR job descriptions are not a lawsuit waiting to happen! We offer sample Job Description templates that teach:
Why job descriptions are critical in today's work places

Key elements to include in every job description

Specific language to include and what avoid

When and how to review your current job descriptions

Considerations for job descriptions for ADA , ADAAA, FMLA, and FLSA purposes

Why borrowing job descriptions is an instant route to confusion, misunderstandings, and legal problems

An easy, operationally sound, yet legally helpful system to prepare a job analysis of responsibilities, duties, and expectations

Red flags that invite regulatory problems and lawsuits

Common mistakes in job descriptions that come back to haunt the employer
Find Sample Job Description Templates

HR Training Center offers several job description templates that will help you to quickly, correctly, and cost-effectively create Job Descriptions for your organization.

Listed below are some of our most-popular job description products. Either select one of the recommended courses or select "Job Descriptions/Employee Handbooks" from the "Professional Development" section of the search box below.

Have An Expert Write Job Descriptions For You

Not sure of your job description requirements? Don't have the time or expertise to write your own Job Descriptions? Simply have one of our experts write them for you. You'll get great Job Descriptions that are professionally written and will help keep you in compliance.

For questions or details on this service, go to https://hrtrainingcenter.com/Human_Resource_Consulting.asp