Leadership And Management Skills For Women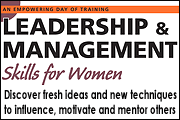 Seminar: ID# 1003981
Pricing: $249.00
About This Course:
Discover fresh ideas and new techniques to influence, motivate, and mentor others!
Great leaders bring out the best in others because they know how to build trust, encourage confidence, and command respect. Most important, however, is the ability of great leaders to inspire others to want to follow their initiatives, adapt their ideas, and perform above and beyond their own capabilities on a regular basis.
Become the leader you've always wanted to be! Attend this dynamic, results-oriented training.This seminar will empower you, inspire you, and boost your confidence as a leader. Through real-world case studies, eye-opening exercises, and spirited discussion, you will learn how to bring out the best in your people, and lead from a position of firmness, fairness, and quiet strength.
Discover the areas where women traditionally lack power as leaders, and learn how to overcome common obstacles to success

Take a look at how women leaders at today's top corporations make the most of their influence and visibility

See how you can become the type of leader who inspires loyalty, deep commitment, and exceptional achievement
Join us for this empowering, exciting day of training ... and come away with a renewed sense of optimism, a firmer commitment to yourself and your career, and the practical knowledge to make it all happen.
What You'll Learn:
Gain respect through your words, actions and judicious "use of power"

Improve your decision-making and problem-solving skills

Motivate and mentor: you and your team will reap the benefits

Tap into the realities of power, politics and leadership to cultivate and use your influence

Lead in times of crisis by keeping your cool - and seeing that others keep theirs

Establish your image as a leader by coming across as authoritative, self-possessed and in control

And much, much more!
Continuing Education Credits:

Click the 'Credits' tab above for information on PHR/SPHR, PDCs, and other CE credits offered by taking this course.