Leadership, Team-Building And Coaching Skills For Managers And Supervisors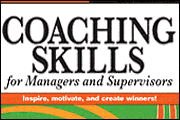 Seminar: ID# 1003666
Pricing: $249.00
About This Course:
Make Your Supervisors The Best!
As a manager, what kind of relationship would you like to have with your employees...Leader? Friend? Teacher? Mentor?, or...the person who motivates them, guides them, encourages them, and makes them want to win?
Forward-thinking managers have discovered that the same skills that coaches use to create winners in athletics work in a business setting as well.
This innovative one-day team-building seminar is designed to teach you powerful employee coaching methods to turn even problem employees into super-productive, motivated winners!
Make Your Team Members Want To Give 110% - For Themselves, And For Their Team!
You'll instill the kind of energy and enthusiasm that makes productivity soar. How? Supplement your own managerial abilities with compelling employee coaching and counseling skills, and watch the incredible results.
This team-building seminar will teach you step by step, how to produce a manager's "game plan" that ensures you'll reach your goals and objectives. Plus, find out how to maximize every employee's abilities...and uncover strengths and talents you never knew existed!
Transform Your Work Group Into A Cohesive, Coordinated Team!
Imagine how much your team could accomplish if it functioned as one well-organized unit. This team-building training shows you how to pull everyone together with a shared drive and purpose.

Invest just one day of your time, and the benefits of employee coaching will change your life as a manager; you'll witness an exciting synergy among your employees, mutual support within your group, a sense of interdependence and exchange, and most of all, incredible productivity from your team as a unit.

Continuing Education Credits:

Click the 'Credits' tab above for information on PHR/SPHR, PDCs, and other CE credits offered by taking this course.