Leadership Training Courses & Seminars

Need leadership training courses for you, your managers, or your staff? If so, you've come to the right place!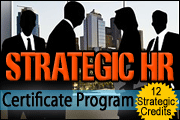 HRTrainingCenter.com provides leadership training courses, including self-study and online leadership team development and leadership training seminars.

Our leadership team development seminars, workshops, and online training courses will help you and/or your team to build or improve the skills they need! Below are just a few of the things our leadership training seminars for managers covers:
What do employees really want from you as a leader? The answers are guaranteed to surprise you!


Leadership best practices required for strategic success at both an individual, functional, and organizational level


Strategies and techniques to encourage teammates to collaborate, cooperate, and turn to one another for help and inspiration


The warning signs of stress and burnout in yourself and your team


How to participate meaningfully and constructively in the strategic planning process


Key ethical behavioral and decision-making components of strategic leadership


How to be a champion of the organization?s strategic goals within your functional area of expertise and to the larger organization


How to handle political pushback

Find Leadership Training & Leadership Team Development Courses

HRTrainingCenter.com offers valuable leadership training seminars and courses.

To find those that best fit your needs, either select one of the recommended courses below, or select "Leadership" from the "Professional Development" section of the search box at the bottom of this page.