Management Skills for Secretaries, Support Staff & Administrative Assistants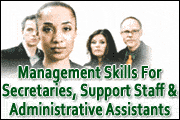 Seminar: ID# 1003600
Pricing: $199.00
About This Course:
The Next Time Your Boss Says, "Handle It!" Will You Be Ready?
Do you feel 100% confident managing projects, people, and situations independently? It's a fact: If you want to be an "exceptional assistant" - a fully contributing member of your team - you need good management skills to survive and thrive.
You need skills like project management techniques...the ability to negotiate well...decision-making acumen...and the ability to manage change, plus many other skills you might think only managers need.
In this exciting, one-day seminar, you'll learn the powerful tricks of the management trade - high-impact approaches that will give you the power and knowledge to "handle your administrative assistant duties with confidence".
You'll master planning and scheduling solutions that give you more control over your time and energy. Not only will you be able to take on special projects, you'll do it without missing a beat in your everyday tasks and daily routine.
Make decisions, manage change, solve problems, negotiate what you need - watch problems dissolve and roadblocks fall as you use the time-tested management skills you'll acquire. You'll take advantage of the same methods used by the most powerful, effective managers!
What You'll Learn:
Handle people and projects independently, with minimal supervision from your boss?

Manage the smallest to largest projects with the skill of a professional project manager?

Make decisions confidently and be proud of taking the right course of action?

Neutralize the tough personality types that make your day miserable?

Negotiate win-win agreements inside and outside your company?

Formulate a plan for today, this week, even months ahead ... that ensures you won't fall behind on your most important objectives?

Build an alliance that would make you and your boss the most enviable team in your organization?
Continuing Education Credits:

Click the 'Credits' tab above for information on PHR/SPHR, PDCs, and other CE credits offered by taking this course.