Managing Emotions Under Pressure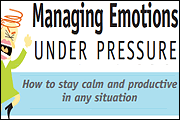 Seminar: ID# 1003635
Pricing: $149.00
About This Course:
Learn How To Keep Your Cool No Matter What
In just one powerful day of training, improve yourself - and your relationships with others around you!
All business is people business. Like it or not, your career depends on how people feel about you - and whether or not they support you.
Here's an opportunity for you - and every member of your team - to develop the steady self-control that people respond to and respect. The stress-management system taught in this seminar is simple - and proven. It can help you live a happier and less stressful life starting the very next day. Just think of how that could impact your team, your department, and even your organization!
Is This Seminar For You? Ask Yourself:
Does my temper ever get me into trouble?
Do I sometimes rub people the wrong way? (Be honest.) What's the price I pay?
When was the last time I promised to change a habit - and I did?
How far could my career go if I eliminated one or two counter-productive behaviors?
How much time and energy do I spend feeling hurt, guilty, inadequate, worried, or anxious? Where has that gotten me?
How much emotional energy do I waste by overreacting?
Are any of my bad habits rubbing off on my kids?
Are you concerned enough about your answers to do something? You can at this ground-breaking seminar.
You'll have fewer conflicts in your life because people won't be able to "push your buttons" anymore. You'll feel strong, confident, and positive.
You'll have higher self-esteem. Self-esteem has more to do with who you are than what you achieve. Discover the crucial difference at this seminar.
You'll get more done with less effort because you'll approach projects with more motivation and mental clarity.
You'll enjoy life more. If you believe that life is better when you're in control, then this seminar is for you.
Managing Emotions Under Pressure Will Benefit You!
Using the most effective tools of modern psychology, you'll be able to conquer even the toughest situations and achieve amazing results:
When you start to lose your temper ... you'll remain calm and clearheaded.
When you're upset and feel the tears well up ... you'll stay powerful and effective.
When you're faced with a difficult challenge ... you'll stick with it, even when solutions don't come easily.
When you feel overwhelmed ... you'll stay productive and positive.
Achieving what you want in life means doing what it takes ... not just now and then ... not just when you feel like it ... but every day. It takes learning self-discipline and emotional control. And that's why so many people have found this seminar to be so powerful.
Continuing Education Credits:

Click the 'Credits' tab above for information on PHR/SPHR, PDCs, and other CE credits offered by taking this course.