Managing HR In California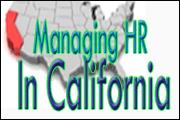 Seminar: ID# 1005063
Pricing:
$795.00

Early Bird: $595.00
About This Course:
Employers in California have a higher compliance burden than employers in almost every other state. Simply stated, you must be able to correctly navigate the complexities of California Employment Law in managing your workforce.
Specifically, organizations with employees working in California must not only comply with federally-mandated laws such as COBRA and FMLA, but also have to comply with California-specific laws such as CAL-COBRA, Whistleblower, and Cal EEO Reporting requirements, as well as California's wage and hour laws, Pay & Scheduling requirements, leaves, safe workplace requirements, and more.
Learning Objectives
This intensive, one-day program helps you understand what you'll need to run HR in California. Here are some of the things you'll learn/benefit from:
An overview of the complexity of managing HR in California
The various regulations and legislative issues relevant to California HRM
Which benefits are required and which are optional in California
California's wage and hour laws, the compliance challenges, and the application of the laws
Effective discipline policies in California - and how to work them within the employer and employee framework
California's Safe Workplace requirements
Managing leaves in California
The requirements for when employees terminate
Recommended policies needed by California employers
Click
here
to see the full Agenda.
Special Bonus: Earn 6 SHRM And HRCI Re-Certification Credits!
You earn 6 hours of SHRM and/or HRCI re-certification credits by completing this course.