Mistake-Free Grammar & Proofreading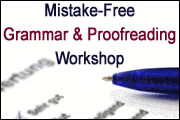 Seminar: ID# 1003617
Pricing: $99.00
About This Course:
Perfect Proofreading!
A workshop that makes proofreading and grammar fun? Is that possible? You bet! This program is based on the latest research on how adults learn.
It's fast-moving, so you stay interested. It's engaging, so you learn by doing. And it's fun, so you happily give it your all. Mistake-Free Grammar & Proofreading is nothing like the grammar classes you took in school.
This workshop is exciting, engaging, and truly effective in refreshing you on the basics of business English.
Who Should Attend
This training is critical for people who want their written communication to be letter-perfect. It's ideal for managers, secretaries, technical writers, editors, and proofreaders who:
Have never received formal training in these core skills
Have been out of school for a while and need to brush up
It's also great for anyone who uses English as a second language.
Memorable Training With Unforgettable Results!
In this high-energy training, you'll try your luck with Blue Ribbon Bingo...polish your usage skills with Grammar Bull's Eye... and "question the answers" with Punctuation Jeopardy.
The result? The information comes alive for you. You easily see the practical applications. And it sticks with you in a way that pure "book learning" never can.
What You'll Learn:
The grammar rules every professional must know
All about capitalization and punctuation
Painless proofreading
Commonly misused words - and how to use them correctly
Six key rules for subject-verb agreement
Techniques for finding errors in numbers, prices, codes, dates, etc...and lots more!
Continuing Education Credits:

Click the 'Credits' tab above for information on PHR/SPHR, PDCs, and other CE credits offered by taking this course.