Payroll Law Seminar
Seminar: ID# 1278404
A Day That Brings Clarity To Your Payroll Gray Areas!

The first time you're hit with a violation on payroll, you'll recognize just how crucial it is to understand all payroll regulations for your business. Don't let it happen to you. Learn all the ins, outs, and pitfalls of payroll with one of our payroll law seminars.

Armed with the strategies you'll gain at this seminar, you'll handle payroll accurately, legally, and with complete confidence!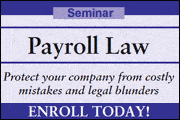 Upcoming Seminars:
Order:
Payroll Law Seminar
Pricing:
$299.00
Metropolitan Area:
Eastern Time Zone
Venue:
Live Online Seminar
9am-4pm EDT; 8am-3pm CDT
Eastern Time Zone
770-410-1219
Date:
8/1/2023 (9:00 - 4:00pm local time)
Qty:
Need training or resources in other areas? Try our other Training Center sites: