Project Management Workshop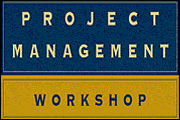 Seminar: ID# 1003670
This course is available in both in-person and video conference formats.
Go to the "Venues/Dates" tab to find a date that is convenient for you.
About This Course:

Rating: 4.85 - 419 reviews
Manage Your Projects Successfully
At this seminar, you'll learn expert techniques for building successful project teams, creating efficient plans, and implementing effective tracking measures to ensure your projects come in on deadline and on budget. In one fast-paced, well-designed day, we'll cover all the essential elements of project management. We'll provide practical information that will not only help you save time, but will increase the success of your projects.
You'll learn the most up-to-date, hands-on project management techniques and be able to put them to work immediately!
What You'll Learn:
Master the art of project planning, and organize your project without omissions, mistakes, or miscalculations
Use better communications techniques to get the cooperation, support, and resources that are vital to the project's success
Root out waste in every stage of the project - wasted time, money, and effort that endanger a project's success
Identify and use indispensable planning and scheduling tools that assure the project is implemented exactly as planned
Estimate time and costs with pinpoint accuracy, using a simple 3-point approach that reduces the risk of costly delays and errors
Order:
Project Management Workshop
Price: $149.00
To order this product, find a location and date that is convenient for you under the "
Venues/Dates
" tab.