About The Human Equation, Inc.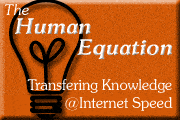 Founded in 1997 by a group of risk management, insurance, and human resources professionals, The Human Equation offers knowledge, training, coaching, and research support on human resources and risk management in both traditional and web-based environments.

Our high-quality e-Learning materials deliver real-world and cost-effective instruction that result in improved employee productivity and reduced employer risk.

The Human Equation's mission is to significantly improve business performance for organizations of all sizes by promoting a fundamental awareness of, and learning solutions for, operational and employment risks.

The Human Equation's products and services portfolio includes a variety of learning solutions that include web-based training courses, labor consulting and coaching helplines, a research repository of news, forms, documents and policies, and an Employee Report Line that manages employee grievances.

Each of our courses are legally reviewed, certified by the American Society for Training & Development (ASTD) for excellence in instruction and design, and accredited by The Human Resources Certification Institute (HRCI) for re-certification credit hours toward PHR and SPHR recertification.

Available Online Training Courses
Course Title
Provider
CE?
Price
(AB 1825) Preventing and Managing Sexual Harassment in the Workplace: A Guide for Supervisors in California
The Human Equation, Inc.
Yes
$23.75
Acoso sexual: Guía para el empleado
The Human Equation, Inc.
Yes
$11.88
An Overview Of Employment Liabilities
The Human Equation, Inc.
Yes
$19.00
Background Screening And The Fair Credit Reporting Act
The Human Equation, Inc.
Yes
$19.00
Communicating Cross-Culturally: Improving Communications In Culturally Diverse Workplaces Ed. 1
The Human Equation, Inc.
No
$9.50
Communicating Interpersonally: Mastering The Fundamentals Of Interpersonal Communication Ed.1
The Human Equation, Inc.
No
$19.00
Communicating Negative Messages: Delivering Bad News Skillfully
The Human Equation, Inc.
No
$14.25
Communication: Effective Workplace Skills
The Human Equation, Inc.
No
$9.50
Communication: Understanding Team Dynamics
The Human Equation, Inc.
No
$9.50
Complying With COBRA
The Human Equation, Inc.
Yes
$19.00
Conducting Workplace Investigations Effectively and Legally
The Human Equation, Inc.
Yes
$19.00
Creating A Winning Workforce: Becoming An Effective Manager
The Human Equation, Inc.
No
$33.25
Disciplining And Terminating Employees: How To Reduce The Damage
The Human Equation, Inc.
Yes
$11.88
Discrimination And Harassment Prevention: Promoting Workplace Diversity Without Conflict
The Human Equation, Inc.
Yes
$9.50
Establishing Performance Standards: What Standards Work Best For You?
The Human Equation, Inc.
Yes
$14.25
Ethics For Managers: Establishing An Ethical Culture Within Your Organization
The Human Equation, Inc.
No
$9.50
Fleet Safety
The Human Equation, Inc.
Yes
$14.25
Guidelines For Managing Intimate Conduct In Schools
The Human Equation, Inc.
Yes
$11.88
HIPAA: Applying Standards For Securing Electronic Protected Health Information
The Human Equation, Inc.
No
$38.00
Hiring And Orientation: Setting The Tone Of The Employment Relationship
The Human Equation, Inc.
Yes
$11.88
Improving Employee Performance: Instituting A 360-Degree Performance Evaluation System Ed.1
The Human Equation, Inc.
No
$14.25
Indemnification And Contractual Liability
The Human Equation, Inc.
Yes
$16.63
Information Risk Management: Strategies For Preventing And Mitigating Information Security Breaches
The Human Equation, Inc.
No
$9.50
Instituting Sensible And Affordable Drug Policies And Practices In The Workplace
The Human Equation, Inc.
Yes
$19.00
Interviewing For Effective Low-Risk Hiring
The Human Equation, Inc.
Yes
$11.88
Introduction To Insurance Principles
The Human Equation, Inc.
Yes
$11.88
Lie Detector Tests In The Workplace
The Human Equation, Inc.
Yes
$9.50
Managing Diversity In The Workplace
The Human Equation, Inc.
Yes
$16.63
Preventing And Managing Sexual Harassment In The Workplace: A Guide For Managers And Supervisors
The Human Equation, Inc.
Yes
$23.75
Running Effective HR Meetings
The Human Equation, Inc.
No
$21.38
Sexual Harassment: An Employee's Guide
The Human Equation, Inc.
Yes
$9.50
The Department Of Labor's Growing Interest In Targeting YOU For Wage & Hour Violations, Pre-Recorded Podcast
The Human Equation, Inc.
No
$9.50
The Economic And Organizational Impact Of Stress In The Workplace
The Human Equation, Inc.
Yes
$11.88
Understanding The Americans With Disabilities Act Ed.4
The Human Equation, Inc.
Yes
$23.75
Violence In The Workplace: Reducing Occurrences Aand Managing The Aftermath
The Human Equation, Inc.
Yes
$11.88
Wage And Hour Regulations: The FLSA
The Human Equation, Inc.
Yes
$19.00
Workplace Injuries: The Costs And The Solutions
The Human Equation, Inc.
Yes
$14.25