PTO Bank Training
Best-Selling Training Courses:
Instructor-Led: Webinars
How To Use A PTO Bank At Your Organization
If you're struggling with unscheduled, unexpected absenteeism in your workplace, you're not alone. Unscheduled absences cost large companies an estimated $850,000 per year. And this doesn't count the cut in productivity and increased strain on employees who do show up for work as scheduled.
Yet surprisingly, two out of three employees who fail to show up for work aren't staying home because they're sick. A recent survey found that 21 percent miss work to handle "family issues", another 18 percent are dealing with "personal needs", and the rest say they're stressed or simply need a day off.
With the rate of unscheduled absence the highest in almost 10 years, many employers are turning to paid time off (or PTO banks) to help solve this problem. PTO banks combine vacation leave, sick leave, personal leave, and holidays into a single "bank".
But PTO programs don't come without risks. They can increase the overall time off employees take and unfortunately employees tend to view all PTO time as vacation and come to work sick - spreading germs throughout the ranks.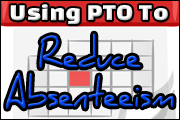 On the positive side, a properly designed, implemented, and communicated PTO bank can be a win-win proposition for both you and your employees.
Features & Benefits Of PTO Banks
The HR Training Center offers a number of training courses on how to utilize PTO Banks. Some of the things you'll learn include:
The pros and cons of PTO vs. traditional time-off policies

How your time-off policies may be affected by federal laws (e.g., the Family and Medical Leave Act) and by your insurance benefits (e.g., short-term disability)

What types of leave should never be included in your PTO allotments

In-depth communication strategies to overcome resistance to change and obtain managerial and employee buy-in

The best techniques for communicating new leave policies to your workers and encouraging their buy-in

The basics on how to assess, cost justify, design, communicate, and implement a cost effective PTO program for your company

Practical formulas to use when conducting the fiscal analysis

Case studies to help you learn from other companies' experiences and avoid their mistakes

Strategies to improve your recruitment and retention by offering PTO

How time-off policies interact with other laws, such as FLSA, FMLA and ADA

The options you should consider when a worker has exhausted his or her leave but still needs time off due to hardships or emergencies

How to handle PTO carryover (and how to cash out unused days when an employee terminates)

Whether capping and "use it or lose it" practices are legal

The most common complaints workers have about PTO banks - and your best options for addressing those concerns with your own employees

What steps you can take to prevent "presenteeism". as workers report to the job sick to avoid using their PTO days as sick leave

How to involve your front-line managers in administering the PTO bank and enforcing its policies
Find PTO Bank Training
To find the PTO Bank training applicable for your organization, simply select one of the recommended courses below.
Best-Selling Training Courses:
Instructor-Led: Webinars
Find Seminars, Webinars, And Online Training In Your Area