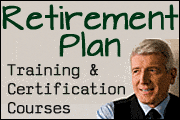 Need Retirement Plan Training?

Searching for 401(k) plan or retirement plan training to meet your administrative requirements?

Looking for help with retirement plan administration, updates to retirement plan rules, or retirement plan changes? Need 401k plan training, defined contribution training, or defined benefit plan training? Then you've come to the right place!

HR Training Center offers Retirement Plan and 401(k) training courses, as well as the prestigious "Certified 401(k) Administrator" designation. Regardless of whether you handle the retirement plan administration for your company, or are a Third Party Administrator (TPA) seeking training for your staff, we can help!


Find Retirement Plan Training Courses

Listed below are some of our most-popular retirement plan training courses. Either select on of these recommended courses or select "Retirement Plan Training" from the "Professional Development" section of the search box below.
401(k) Training & Certification Program

Our 401(k) Plan Training & Certification Program is loaded with information on plan design, administrative options, and compliance requirements to help you understand the many and complex 401(k) rules.

More than just a read-along format typical in printed books, the course includes numerous examples, "Administrative Tips", and "Procedural Recommendations", as well as scenario-based, multiple choice interactive quizzes (with answer rationale provided) that test your ability to apply the correct procedures and processes learned during training that are key to 401(K) administration.

This course covers:



Eligibility & Coverage Requirements

Plan Design & Documentation

Plan Investments

Communication & Enrollment

Vesting

Administration

Compliance With The Nondiscrimination Rules

Top-Heavy 401(k) Plans

Distributions & Taxation

Plan Expenses

Reporting Requirements

Fiduciary Responsibility

Amendments

Terminations

Plan Mergers



More Details/Order: http://hrtrainingcenter.com/401-k-Training-Certification-Program/online-training



---



Defined Benefit Training & Certification Program

This course covers:



Introduction To Defined Benefit Retirement Plans

Eligibility And Coverage

Benefits In A Defined Benefit Plan

Plan Design & Documentation

Plan Investments

Communication And Enrollment

Vesting

Administration

Top-Heavy Defined Benefit Plans

Distributions

Taxation & Rollover Of Distributions

Reporting Requirements

Role Of The Actuary

Fiduciary Responsibility

The Role Of The PBGC



More Details/Order: http://hrtrainingcenter.com/showOTDetails.asp?TCID=1000020



---



Cash Balance Plans Training & Certification Program

By taking this course, you will be able to:



Understand what a Cash Balance Plan is

Correctly manage a Cash Balance Plan

Properly handle all documentation and compliance requirements



More Details/Order: http://hrtrainingcenter.com/showotdetails.aspx?tcid=1000041



---



Plan Loans Training & Certification Program

This course provides an overview of the rules that apply to participant loans under qualified plans (including 403(b) plans).

Upon completion of this course, you will be able to:



Identify the purposes for which a participant loan may be made

Determine the maximum loan amount

Describe how to apply loan repayments

Identify the requirements that must be satisfied in order for a participant loan to avoid being a prohibited transaction

Identify the requirements that must be satisfied in order for a participant loan to avoid being treated as a taxable distribution

Describe the deemed distribution rules

Describe various participant loan issues and how to correct them



More Details/Order: http://hrtrainingcenter.com/showotdetails.aspx?tcid=1003394



---



Spousal Rights & Consent Requirements Training & Certification Program

This course provides an overview of the spousal consent requirements as they apply to qualified plans (including 403(b) plans).

Upon completion of this course, you will be able to:



Describe the origins of the spousal consent requirements

Define the word "spouse"

Describe the spousal consent requirements under a plan subject to the qualified joint and survivor annuity requirements

List the exceptions to the spousal consent requirements under plans subject to the qualified joint and survivor annuity requirements

Describe the spousal consent requirements applicable to qualified pre-retirement survivor annuities

Describe a spouse's rights regarding the form and timing of payment under a plan subject to the qualified joint and survivor annuity requirements

Identify the requirements necessary for a plan to avoid being subject to the qualified joint and survivor annuity requirements

Describe the spousal consent requirements under plans that are exempt from the qualified joint and survivor annuity requirements

Identify the steps that must be taken to correct spousal consent failures

Describe the effects that qualified domestic relations orders and so-called "slayer statutes" have on the spousal consent requirements



More Details/Order: http://hrtrainingcenter.com/showotdetails.aspx?tcid=1003392



---



Required Minimum Distributions Training & Certification Program

This course provides an overview of the Required Minimum Distribution (RMD) rules under IRC section 401(a)(9), as they apply to defined benefit plans.

Upon completion of this course, you will be able to determine:



The Required Beginning Date (RBD) for defined benefit plans

How to calculate first year payments for Lifetime RMDs

How to calculate death RMDs

Who, if anyone, is a "designated beneficiary" for purposes of death benefits

How benefits must be paid if a participant dies before RMDs begin

How benefits must be paid if a participant dies after RMDs begin

Whether an annuity payment satisfies the RMD rules

Whether a "period certain" under an annuity satisfies the RMD rules

When Defined Benefit plan distributions are eligible rollover distributions

What portion of a lump sum distribution should be treated as an eligible rollover distribution

When an actuarial increase to a participant's benefits is required because of the participant's retirement date

When benefit payments must be adjusted because of additional accruals or vesting that occurs after distributions begin

How the RMD rules apply when a Qualified Domestic Relations Order applies to a participant's benefits



More Details/Order: http://hrtrainingcenter.com/showotdetails.aspx?tcid=1003372
---
Find Other Training Courses