The Essentials Of HR Law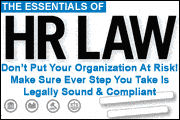 Seminar: ID# 1003656
Pricing: $199.00
About This Course:
Get A New Perspective On Your HR Challenges And New Tools For Meeting Them Confidently And Legally With Our Essentials Of HR Law Seminar!
Class Action lawsuits...hints of sexual harassment...regulations for interviewing and hiring. There's no end to the legal pitfalls you face every day on the job, and as a human resources professional, you're expected to stay on top of it all.
Meeting that challenge requires continuing education that keeps you abreast of the latest legal changes along with the best employment practices. That is why our "The Essentials Of HR Law" seminar is so important.
Presented in conjunction with Fred Pryor Seminars, this information-packed seminar will provide you with what you need to know to handle the legal issues and gray areas you face every day. You'll also learn how to think like a lawyer, so you can anticipate and sidestep problems before they arise.
Partial Agenda
Here is just some of what's covered:
Hiring practices that will stand up under an EEOC undercover audit
Why how and where you recruit can inadvertently constitute discrimination
How to communicate policies and procedures so they will be easy to understand - and hold up in court
Basics on FMLA, ADA, and COBRA
How to successfully evaluate, discipline, and correct performance problems among manager
The most important employment legislation and how it affects your workplace and job
Documentation you must have
These items alone are well worth the price of the seminar. If you deal with the legal issues surrounding human resources as an HR professional - or even as a manager or supervisor - you need to enroll today!
Click the "Agenda" tab to see the full list of items covered, or the "Venues/Dates" tab to select a city and date to attend "The Essentials Of HR Law" seminar.
Additional Training Courses For HR Law>>>
Continuing Education Credits:

Click the 'Credits' tab above for information on PHR/SPHR, PDCs, and other CE credits offered by taking this course.