Internal Investigations Training Programs
Need Training For Conducting A Workplace Investigation?
HR managers will tell you that one of their hardest, most time-consuming processes is conducting internal, workplace, or HR investigations from allegations of harassment and inappropriate workplace behavior.
From interviewing witnesses to gathering information, workplace investigations are nearly impossible to do without the proper legal understanding, internal policies, and experience. That is why internal investigations training is a vital part of the HR manager's tool belt.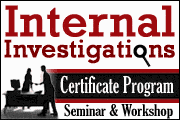 After all, is the is the time to learn
how
to do an internal investigation
when
you are suddenly faced with having to do one? Of course not. That's where our workplace investigations training can help!
What Is Internal Investigation Training?
HR investigations often cover fraud and theft, but more often than not, HR investigations frequently have turned to a workplace investigation on bullying, harassment, and compliance with, or abuse of, laws such as the FMLA. As you can imagine, making a mistake on any of the types of HR or workplace investigations can cause serious penalties.
Training and certification in conducting internal investigations covers both the legalities of the process as well as best practices for protecting both the accuser and the accused. It also gives HR managers confidence to address allegations of misconduct, harassment, theft, and fraud, and to conduct employee investigations without fear of reprisal or legal exposure for conducting the workplace investigation.
Some of the key items and questions you'll need to know include:
What are your first steps after receiving an employee complaint?

The legal obligations that require employers to conduct internal or workplace investigations

How to gather documentary and physical evidence prior to witness interviewing

How to establish a chain of custody and a confidential retention process

What are best-practices for getting accurate information about the allegation?

How to prepare questions for witness interviews and select appropriate interviewing locations

How can an investigative strategy limit your liability - without disrupting your workforce?
Why Is A Workplace Internal Investigation Training Important?
In order to complete thorough and legal employee investigations, HR investigations professionals must be well-versed in the legal requirements and responsibilities surrounding workplace harassment or other types of workplace investigations, such as ow to handle employee grievances, employee theft investigations, and employee relations investigations. Specifically, you must know your legal obligations to conduct workplace investigations. For instance, what you must do when an employee lodges a complaint. What's more, to do and effective workplace internal investigation, you'll need to gather and document evidence in a way that is within the confines of the legal system.
Once you have evidence of wrong-doing, you have to know how to handle the information, when to contact authorities, and how to maintain confidentiality until the investigation is closed. In some cases, you'll need to know when to bring in the police. On top of this, you must know how to protect your employees while enforcing existing workplace harassment policies.
Proper training on these and other legal aspects of workplace investigations can shield your company from negligence or wrongful termination lawsuits. More importantly, it can shield you from lawsuit exposure while conducting internal investigations.
Instead of worrying about gathering information in an inappropriate or illegal manner, internal investigation training and certification can help you protect yourself and your organization from liability.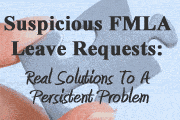 Types Of HR And Internal Investigations Training Programs
One of the biggest challenges to HR Investigations training is finding the right course to take that will give you the tools you need to conduct an effective internal investigation.
To help, HRTrainingCenter.com offers several internal investigations training programs, including in-person seminars on Internal Investigations Certificate Program that are held in cities across the country, online courses, and several internal investigations training webinars on investigating specific items such as FMLA abuse.
Bring Our HR Investigations Course To Your Location
Have a large staff that needs training? What to save money on travel costs? Have us come to you! We can
come to your location
to train your team!
For specifics on having us train your staff at your location, either click the link above or call us at 770-410-1219.
Find HR, Workplace, And Internal Investigations Training Programs
To find your HR, workplace, or internal investigations training now, either choose a "Recommended Program" listed below or select "Investigations" from the "Professional Development" section of the search box below.
Find Seminars, Webinars, And Online Training In Your Area